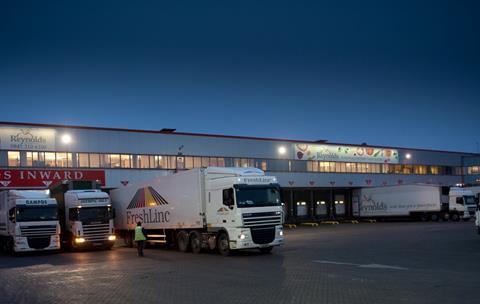 Sea kale, oca and yuzu caviar, followed by a mouthwatering Hampshire-grown asparagus and wild garlic risotto is on the lunch menu at catering supplier Reynolds' development kitchen on the day I visit.
We are served by the company's development chefs Ian Nottage and Diane Camp – both well-known in foodie circles – who explain how a kitchen such as this one is both a "huge investment" and a "necessity" for a foodservice supplier of Reynolds' size, to aid NPD, menu planning, and hold demonstrations for customers.
Immaculate and gleaming, the kitchen is the showpiece of the company's national distribution centre in Waltham Cross, north London, but it is also a sign of how far the third-generation firm has come from its roots in the buyers' walks of wholesale markets and retail street trading.
Celebrating its 70th anniversary this year, the company only started seriously targeting the foodservice sector when current managing director Tony Reynolds joined the business full-time. Painted portraits of Tony's father and grandfather on the boardroom wall are a visual reminder of the well-known produce family behind the firm's growth, and fourth-generation Tom has just started working his way around the different areas of the business.
Reynolds now counts restaurant groups such as Pizza Express, Carluccios and Pret A Manger as loyal customers, and perhaps more significantly, it beat close rival Fresh Direct to come 12th in the FPJ Big 50 this year, before the latter was acquired by Brakes owner Bain Capital.
Five regional depots across the UK act as transit points in the company's extensive national distribution network, while volumes in some categories are almost comparable with the major retailers – senior buyer Matt Jones says the business handles around 13,000 cases of ready-to-eat avocado a week.
The business has also diversified to include dairy, cooked meats and smoked salmon, in order to be as convenient as possible to busy restaurant customers. Head of marketing and former Brakes employee, Andy Weir, says: "It was a natural progression for us to diversify. It was more a question of why wouldn't we? But we are definitely not going to become a one-stop shop, like Brakes or 3663."
Jones heads up what has to be one of the industry's smallest buying teams for a company of this size – his team of three has just been joined by new graduate Megan Garwood, and between the four of them they cover all categories. He explains: "Finding new buyers is becoming increasingly difficult, as supermarkets and their direct suppliers, such as IPL, are sucking people out of the wider produce industry and into the retail sector."
Meanwhile, Weir says Reynolds has seen "double-digit growth" for the past four years, but admits this has also created the inevitable difficulties in operational capacity. The company currently has 200,000 sq ft of space in use, with an ongoing expansion into new units to exclusively handle orders for two customers, and an empty adjoining facility should more space be required. "Business is brisk at the moment. We are starting to target sectors outside of the restaurant sector, such as education, nursing homes, independent operators and hotels," he adds.
There is also a growing trend for Asian food, and chains such as Giggling Squid, Kimchee, Tampopo and Yo! Sushi have become an increasingly big presence in Reynolds' customer portfolio. On the supply side, Jones says he is trying to establish more links with Asian produce suppliers, especially for Thai produce, which he says is particularly difficult to import due to dual import-export regulations between Thailand and the EU.
Another issue the foodservice and catering supply sector is facing is a lack of certified drivers, since a change in regulations means that drivers now have to re-certify at a significant cost in both money and time, even if they have a whole driving career under their belt. "What's happening is many of them think it's not worth it, so they move into retail home delivery, where the vehicles are smaller so the regulations don't apply," explains Jones.
To counter this problem, which is a critical one for a company that has built its reputation on geographical reach and logistical scope, Reynolds has launched its own transport programme to support drivers through the new certification.
The company's Driver Development Scheme began last year, with two having already completed it and who now drive full-time for the company, and another eight at various stages of the programme. "We plan to have around 10 trainees on the go at any one time," says Weir, adding that applicants have so far included a retail delivery driver, a swimming coach and a prison officer.
Both Weir and Jones also see the value in looking after drivers, and I am shown through the company's dedicated transport management block, which includes showers, a canteen and an airport-style departures board.
It's not the only instance of a diversion from the typical distribution or packing facility – in the main packhouse, the company's bespoke 'single-pick' line was devised by Tony Reynolds, to offer yet more convenience to picky chefs or smaller food outlets. Workers hand-pick produce for smaller pallet orders, after they have passed through the more traditional 'bulk buy' area on the other side of the warehouse.
Seasonality is a big focus for the business at the moment, as Weir explains the business can add value to customers by persuading them to tailor menus to what produce is in season. "We want to make customers realise that there is a great opportunity to promote the best of global seasonality," he says, while Jones adds that, to this end, account management meetings now take place at grower sites where possible. "Every supplier has trials going on, so it's a great place for customers to get a feel for what's coming through," he says.
Weir is coy about the company's future strategy, but he suggests that as a family business, it will look to grow through volumes rather than acquisitions.
Whether or not a rapidly-growing company with ambition and scale in what is quite clearly a burgeoning foodservice sector will remain off the market for long is yet to be seen, but for now the Reynolds business is thriving and its future is bright.