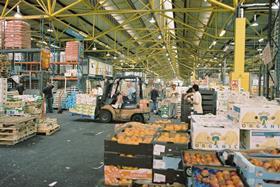 The chairman of the New Spitalfields Tenants' Association has said there is "low acceptance" among its traders for current plans to move to Dagenham.
Paul Walker said the proposed location for a composite market alongside Smithfield and Billingsgate wholesale markets, was the least preferred option of the three presented to them by the City of London Corporation, with traffic and size major concerns.
The corporation announced last Thursday that it had chosen a site for the new composite market at Barking Reach, Dagenham, East London, beginning the next phase of consultations with the public and market traders.
But Walker says the site could present serious problems for traders, currently housed at the New Spitalfields Market in Leyton, by Hackney Marshes. "We have just found out about it ourselves. We read about it in the Barking and Dagenham Post.
"It's not our preferred site, it's the lowest of the three we looked at. It seems the other two markets (Smithfield and Billingsgate) are prepared to accept and make the move. It will be really tight for all three markets, we had been hoping for a larger site to expand our businesses.
"It's a bit of a disappointment. We're not very supportive as it stands, we need an in depth consultation, the road networks need to be looked at." Walker says the move will need to achieve a majority of support from traders at the market but said "it's got a low acceptance rate at the moment".
Following the corporation's decision on Thursday, Catherine McGuinness, policy chair at the City of London Corporation, said: "In order to secure their continued success,and after careful consideration of a number of options, Barking Reach has today been agreed as the preferred site for consolidating the City Corporation's wholesale markets. We intend to use this new site to offer more modern facilities and space for traders to grow so that they can continue to support the capital's food economy.
"We will soon be launching a public consultation on our preferred option. As part of this process, we will continue to engage with market tenants, traders and their customers, and other key stakeholders across London. Our number one priority is to maintain a top-quality market environment serving London."
The other sites considered by the City of London Corporation were Silvertown in Newham; Fairlop in Redbridge; and Thames Enterprise Park in Thurrock.
With the preferred spot agreed by the corporation, the next phase will see a public consultation process, slated to begin this summer. Parliamentary legislation will be required to approve any relocation.
The corporation said they would propose to bring forward a Private Bill in November 2020 to provide the statutory basis for the relocation of the market.