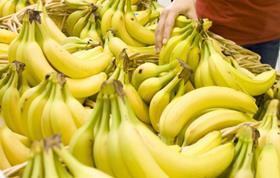 St Lucia exported a record 5,000 tons of bananas to the UK in 2014, the former British colony's ministry of agriculture, food production and fisheries has claimed.
The growth in exports of the fruit was made possible largely by 'continuing government support to battle disease, provision of fertilizers and active cooperation between agriculture officers and the island's remaining banana farmers,' the Caribbean island's ministry said in a statement.
The figure reflects growers' success in overcoming an outbreak of Black Sigatoka disease, the damage done in 2010 by Hurricane Tomas and the flooding of Christmas Eve 2013, according to the statement.
St Lucia's banana-growing Windward Island neighbors - Grenada, Dominica and St. Vincent and the Grenadines - 'haven't been able to produce enough to export continuously,' the ministry statement also claimed.
In 2013, 28.8 per cent of St Lucia's exports were related to agriculture, according to data from the World Trade Organisation.
St Lucia's principal export markets are the US, Trinidad and Tobago, the EU, Barbados, and St Vincent and the Grenadines.