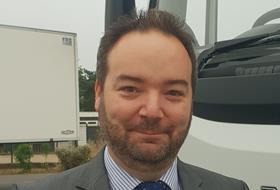 Businesses operating in the food chain could well feel the impacts of Covid-19 restrictions at some level until the spring or even summer of 2021. Planning ahead in an environment of so much uncertainty is challenging,but Shane Brennan of the Cold Chain Federation stresses that companies should prepare where they can for the likely scenarios while also staying primed to react fast as the picture develops.
What can we expect coming out of lockdown to look like?
Shane Brennan:Following Boris Johnson's speech on 10 May, it is clear that we are not going to see a swift return to pre-pandemic normal. Instead, over a period of months, we can expect several stages of de-restrictions as we endeavour to avoid a second wave of the virus.
We should expect to see general movement restrictions change to targeted ones, perhaps with certain age groups asked to continue self-isolating. A phased return of economic activity will see some sectors remaining in hibernation while others start to increase their operations again. Pubs, mass gatherings and international leisure travel are expected to be among the last we will see back in operation.
Throughout the entire process we should expect social distancing protocols to be maintained at all times we are outside of our homes, including in the workplace.
What changes can the fresh produce supply chain expect after lockdown?
A major concern for supply chains across all sectors is the knock-on effects of some businesses closing permanently as a result of the lockdown. With a heightened risk of bad debt, now is the time to check the terms of your trade credit insurance and your business interruption insurance.
With widespread vaccination against Covid-19 unlikely within the next year, signs of a second wave of the virus could lead to another lockdown. The fresh food supply chain has done an exceptional job of responding to consumer desire to stock up and we should be ready to meet this need again.We should also be prepared for the ensuing dramatic reduction in orders as entire sectors go into hibernation again.
While the virus continues to pose a risk for vulnerable groups, demand for last mile deliveries will far exceed what the groceries sector currently has capacity to supply. Businesses that could adapt their operations to help meet demand for food deliveries can consider whether this may help them to partly off-set losses in other areas.
What support is available for fresh produce storage and distribution companies?
Government has put in place support for businesses on an extraordinary scale. Headline measures include the deferral of VAT payments for three months, the Coronavirus Job Retention Scheme to enable staff to be furloughed, and two Coronavirus Business Interruption Loan Schemes.
To help distribution networks keep running smoothly Government has announced suspension of some of the usual requirements. The routine D4 medical for HGV drivers is temporarily removed, and any driver whoseDQCexpires between 1 March to 30 September can continue driving but has to complete their 35 hours mandated training by 1 October.
As disruption of global supply chains continues we are seeing trade credit being withdrawn or reduced by insurers. Several other national governments including France and Germany have stepped in to provide a backstop, so that insurers will continue to vouch for companies' losses. The Cold Chain Federation is calling for a similar approach from the UK Government which would provide crucial assurance for any business anticipating bad debt over the coming months.
Food industry associations including the Cold Chain Federation are providing regular updates, advice and support to our members. We are also working together both to lobby Government on behalf of food businesses and also to match business needs with service providers, for example matching businesses with surplus stock to cold stores with blast freeze capacity.
What are the key operational decisions needed?
Fresh produce storage and distribution businesses will be continuously interrogating their expectations for orders over the coming months. With reduced demand anticipated from a proportion of the existing fresh food customer base, identifying from where new customer orders could come and seeking them out will be a high priority.
Already extended once, we must recognise that the Government's furlough scheme can not continue indefinitely so plans should be made to determine the best course of action when the furlough scheme is no longer in place.
Government loans are available butto date cold chain businesses have tended to avoid taking on new borrowing when there is such uncertainty about market conditions later in the year.Businesses should decide under which criteria they might choose to take up this loan.
Finally, fresh food storage and distribution businesses need to consider how to adapt operations for a long period of social distancing in the workplace.
How can we best apply social distancing in cold chain workplaces?
Social distancing is set to remain a requirement for every workplace long after the lockdown has ended. While some employees in the food industry will be able to fulfil their roles working from home, many can not and they must be protected in the workplace. Fresh food storage and distribution businesses should look at options for building social distancing efficiently into operations, such as:
Providing separate washroom facilities for drivers
Ensuring drivers are not required to get out of their cabs
Minimising the physical exchange of paperwork
No non-essential travel between sites
No visitors on site
Provision of PPE if advised by Public Health England
Staggering shift start and finish times to avoid people congregating in rest areas
Regular advice and reminders to employees about self-isolating, social distancing and hand washing.