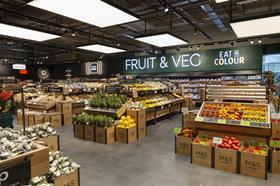 Marks & Spencer has had a torrid time in the past few years. Its clothing and home sales in particular have been in freefall, with the historic retailer still in the process of closing 100 stores as part of a radical five-year transformation plan. Thankfully, its food division has fared somewhat better, posting a strong performance over Christmas, with like-for-like food
sales rising by 1.4 per cent in the 13 weeks to 28 December.
It makes sense then that M&S has been focusing its efforts and investment on food of late, and there have been a handful of exciting store revamps for the retailer over the last six months. The first was unveiled in Hempstead Valley in Kent in July, followed by London's Clapham Junction in September, and both Abbey Centre (Belfast) and Hedge End (Kent) in December.
The emphasis has been on creating some in-store theatre and delivering a greater sense of freshness for customers. This has meant giving more square footage to fruit and vegetables, putting it in a prominent front-of-store location and significantly increasing the amount of loose produce, in line with the push to reduce packaging.
At the Hempstead Valley store, for example, the Food Hall has almost doubled in size, it has a more modern look, and the full M&S food range is in stock.
"My team and I can really show our customers that we're much more than a ready meal and special occasion retailer," says the store manager Suzi Price. "The new format shines a spotlight on our fresh food credentials. The extra space means we have a 50 per cent increase in fresh produce and a whole range of new-variety fruit and veg on display. We know plastics use is a key topic for both us and our customers, so we have 40 per cent more loose produce. We're also trialling a greengrocer role, who can help customers select and weigh items but also provide tips on how to preserve fresh produce and prevent food waste at home."
In addition, efforts have been made to improve shoppers' store experience, with a spokesperson saying the stores have been designed to deliver "a more engaging, fresher feel for customers". The outlet is adding some fun to the shopping experience with new interactive features such as an oinking Percy Pig sweet stand and new kid-sized trollies, which have proven popular. There are also some practical features to help make shopping quicker and easier for busy customers, such as the store's Scan and Shop facility.
At the new M&S Food store in Clapham Junction, meanwhile, seasonality is being highlighted. There are 360-degree displays featuring more loose produce, and provenance and recipe inspiration appears on signage at the fixtures. When it comes to product ranges, tomatoes and flowers are worthy of special mention: the tomato stand boasts a plethora of different tomato types and colours, from green zebra to yellow plum tomatoes on the vine, while flowers have been afforded a dedicated section called the Flower Shop, with gift cards available alongside.
Arguably the jewel in the crown is the store's miniature vertical farm, installed by the Berlin firm InFarm, which grows a range of fresh herbs and delivers environmental benefits. According tothe German company, each unit uses 95 per cent less water and 75 per cent less fertiliser than traditional soil-based agriculture. Measuring just two square metres, these farms are capable of producing the equivalent crop of 400 square meters of farmland, resulting in a more sustainable use of natural resources and also allowing for zero pesticide use. These in-store vertical production units, which offer a seasonally tailored range of herbs, have now been rolled out to a further six stores in the capital, in Bromley, Marble Arch, Kensington, Stratford City, Ealing Broadway and King's Road in Chelsea.
A spokesperson for the retailer said that although it's still "very early days", initial feedback on the retailer's new food outlets has been positive, while in Clapham Junction the InFarm unit is "helping change the perception of M&S Food" in that area. "We know that the store experience is an increasingly important part of food shopping missions and our renewal stores are designed to deliver a more engaging, fresher feel for customers," they said.