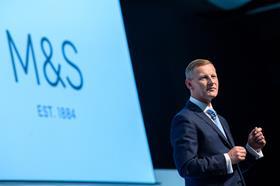 A strong performance from its food division has given M&S a boost, with analysts suggesting it could indicate a return to form for the upmarket retailer.
The grocery and clothing giant reported third-quarter like-for-like revenue up 0.2 per cent to £2.8 billion in the 13 weeks to 28 December, with Food performing particularly well with a 1.4 per cent increase to £1.7bn.
Chef executive Steve Rowe said the result reflected the ongoing progress of the retailer's transformation strategy, with an increase in volumes in the food business and a particularly strong two-week Christmas period as shoppers responded to "sharper value and more relevant innovation."
"As we drive a faster pace of change, disappointing one-off issues - notably waste and supply chain in the Food business, the shape of buy in Menswear and performance in our Gifting categories - held us back from delivering a stronger result. However, the changes we made earlier in the year in Clothing have arrested the worst of the issues of the first six months and we are progressively building a much stronger team for the future."
Richard Lim, chief executive of Retail Economics, said the results were a promising sign for M&S.'In a tough market, these figures signal a much-improved performance from the retailer and could signal the green shoots of recovery in the ongoing transformation of the business.

"Food performed particularly well, benefitting from stronger underlying household finances but consumers also responded positively to more competitive pricing. It appeared that shoppers were prepared to indulge that little bit more this Christmas on food if they spotted value for money."
Lim stressed, however, that the performance of the online business was a disappointment, adding that it"barelyshowed any meaningful signs of growth." "Integrating a seamless digital proposition remains the key challenge for the retailer," he said.