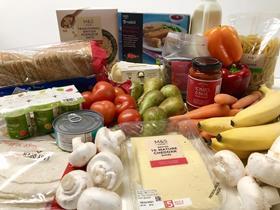 Supermarkets are stepping up their efforts to support families through the winter by bolstering the value of government vouchers.
Last Friday Marks & Spencer announced it would offer families an extra £5 per week for each £15 redeemed via the government's free school meals scheme. The cash can be used to provide children with a healthy, nutritious breakfast as well as lunch, and the retailer has also produced a downloadable weekly meal planner to help parents prepare five simple, nutritious breakfasts and lunches for two children, for under £20.
Lidl confirmed this week that it is increasing the value of Healthy Start vouchers issued to parents in England and Wales from £3.10 to £4.25, from January to March. It comes ahead of the planned government increase in the vouchers' value to £4.25 in April.
Both announcements come in the wake of footballer Marcus Rashford's ongoing campaign to support children in lower-income households to have access to sufficient, healthy food.
Of M&S's latest move, Rashford said:'As a child, I relied on breakfast clubs to kick start my day the right way. Breakfast is so important to guarantee children have the ability to engage in learning, and to flourish within the education system, to go on to succeed at whatever they choose to do in life. Education is the most effective means of breaking cycles of hardship in some respects but education is only achievable with strong engagement and concentration.
'Unfortunately for the majority, hunger does not allow that. I thank M&S for taking the strong initiative to support the uplift of the vouchers to cover an essential meal of the day and I'm confident we will see a great response from those most vulnerable.'
Meanwhile Tesco reaffirmed its commitment to Rashford's Food Poverty Taskforce, stating that it will continue to support his campaign for free school meals for every child that needs them, and will continue its wider work to help families who are facing hardship due to the pandemic.