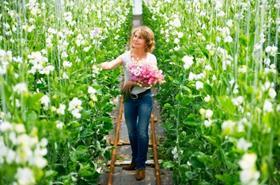 Interest in British flowers is pushing up sales at supermarket chain Waitrose, which expects to sell some half a million stems of British-grown sweet peas this year.
Sales of these delicate flowers are up 115 per cent year on year, and due to the good weather in recent months the flowers were welcomed into Waitrose branches six weeks earlier than last year.
The flowers are grown at the Greenlines Nursery near Chichester, which has been growing sweet peas for over 30 years and working with Waitrose for 16 years.
In addition to strong sweet pea sales, Waitrose has also seen a rise in the popularity of other traditional flower bouquets, with sales of British peonies up 125 per cent.
Waitrose flower buyer, Allison Burdett, says: "Our customers love seasonal, scented flowers and as the only supermarket to stock British sweet peas, we're delighted to be supporting local growers in this way.
"Our sweet peas are not only beautiful to look at, but also offer a smell that is reminiscent of an English country garden – perfect for bringing a touch of summer to any home."
The news comes during British Flowers Week, which is being championed by New Covent Garden Flower Market.
Each day this week the market is releasing images of fashion-forward bouquets by florists using only British product. Today the corporate and wedding event florist Hybrid showed its love of the vintage Sweet William flower with a modern display.