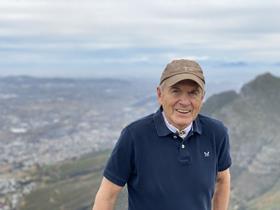 When a young Peter Barfoot began growing a single crop in the micro-climate of the Hampshire Basin back in 1976 he probably didn't imagine that 43 years later he would be presiding over one of the largest and most impressive food producers in the country and receiving a top honour from the Queen. And yet just a few weeks ago Barfoot was the standout fresh produce name in the Queen's 2020 Honours list, receiving a CBE for a contribution to farming that has spanned more than four decades.
Peter Barfoot was born in Botley, Hampshire in 1950 into a family with farming heritage, describing himself as a troublesome child who eventually used up the energy that might have been directed towards mischief by working on a local dairy farm. His lightbulb moment, he tells me, came after attending the Hampshire College of Agriculture, a period which no doubt helped sow the seeds of business sense to go with his inherited love of the land.
Following a stint in Australia, he joined his father Victor – a strawberry grower and market gardener – on a 30-acre council smallholding, and the two of them together launched Barfoots of Botley. Working with his father didn't mean that success came easily though, and Barfoot says it was a case of rolling up his sleeves and working hard – traits that continue to serve the business well. "When starting out growing vegetables in 1976, the first priority was getting on the phone and selling them," he recalls. "It remains the same today. It's no good growing vegetables if you can't sell them, so selling or marketing is still the main function of the business now. But no, I never expected the business to keep growing the way it has."
To say it has grown is an understatement. Today, Barfoots occupies 24th place in the FPJ Big 50 Companies list with a turnover of some £162.2 million, over 400 staff and farms on three continents, and Barfoot is not one to rest on his laurels, joking that his first wife used to say "enough is never enough with you!"
Barfoots is best known for its sweetcorn production, but today the company is about much more, growing and marketing a wide range of domestic and exotic vegetables from asparagus, baby corn and squash to sugarsnap peas, mangetout and Tenderstem. Funnily enough given the success it has afforded him, sweetcorn is the source of Barfoot's one regret: "The one thing I regret is that when I revolutionised the way sweetcorn was presented by topping and tailing and then deleafing it, I should have branded the product," he explains. "I didn't, thus missing a golden opportunity. It is now nearly impossible to get a brand on the shelf with fresh produce."
Barfoot's CBE was a particular nod to his work in sustainable farming, and the company has put a raft of environmental and social initiatives in place: its site has been fully powered by waste since 2010; it uses the minimum tillage system to farm its 7,000 UK acres; it produces more than twice the energy it needs from its green factory waste, selling the surplus to the National Grid; and puts the biodiversity balance at the heart of its philosophy. Staff training is equally important to the company, which states that ethics is paramount to its operation.
Barfoot's approach might sound like philanthropy, but it's about cold, hard business sense too. "Our ancestors weren't stupid," he remarks. "Rotation was the basis of good farming and having grass in that rotation was the key. As we are having more chemicals removed from our armoury, rotation is becoming more important in our ability to be sustainable. But the biggest factor in sustainability is profitability."
He sums it up neatly with reference to an old farming adage: "Live as though you may die tomorrow, but farm as though you will live forever."
The company has always been a family affair, and Barfoot's eldest daughter runs its Spanish and Moroccan business, while his eldest son, who was previously commercial director, is now running his own veg box delivery business, Boxxfresh. "So the next generation is moving on. I have no thoughts of retirement and although my main board are quite young, my non-exec is 83 – driving out of central London every Tuesday – and is a salutary example of 'never retire!'"
You can sense Barfoot's fondness for his colleagues, and indeed the thing he is most proud of is the number of talented people who have worked with him over the years to make the business what it is. That doesn't mean he shouldn't bask in a bit of individual glory though, and the CBE award has afforded him that. "Other people's reactions to it have been incredible, literally hundreds of well-wishes," he reveals. "It makes me feel very humble."
So what's his advice to new entrants wanting to come into farming? Barfoot says they should think outside the box, grow something new, find new markets – above all, be different. "I wouldn't have lasted long if I had tried to compete with the eastern counties growing traditional roots and vegetables," he says.
Certainly nobody could accuse Barfoot of failing to think outside the box, and his continued love of the game sees him travelling the world in search of new ideas and business opportunities.
A CBE might be a sign that someone has past the peak of their career, but try telling that to PeterBarfoot.