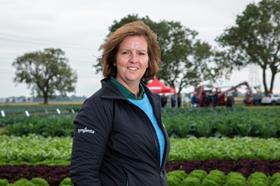 Syngenta Vegetable Seeds has announced a new dedicated UK distribution channel, to assure growers receive timely delivery of their orders for the 2022 season.
Operating from Dalton Seeds at Eye near Peterborough in the east of England, the new system will take advantage of the company's existing cereal seeds distribution network that is experienced in storing and moving high-quality seed on to farms efficiently and conveniently.
Syngenta Vegetable Seeds manager Kris Goen highlighted that Brexit had posed some significant challenges in shipping supplies to the UK from the company's seed processing and storage facility in Enkhuizen, the Netherlands.
"We are committed to providing UK growers with the highest levels of service,' said Goen. 'This new partnership with a dedicated specialist storage and logistics service, holding a full season's seed stocks, will ensure the availability and supply of the exciting Syngenta vegetable variety range in time for the new growing season.'