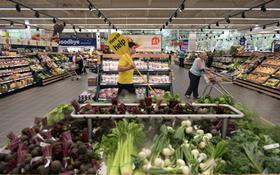 Take-home grocery sales have risen at their fastest rate since 1994 as home-working Brits and the closure of the restaurant trade boosts home consumption.
According to Kantar figures for the 12 weeks to 12 July, take-home grocery sales rose by 16.9 per cent, while total sales reached a record £31.6 billion. Kantar said this reflected three months of increased grocery purchasing during lockdown while most other retailers, bars and restaurants were either closed or experiencing significant reductions in trade.
In the most recent four weeks the picture is more nuanced, with signs that shoppers are embracing new freedoms and cautiously returning to their pre-lockdown behaviours.
Fraser McKevitt, head of retail and consumer insight at Kantar, said: "As lockdown restrictions are gradually eased and non-essential retail outlets re-open, some consumers are slowly resuming their pre-Covid routines and shopping habits. This meant year-on-year supermarket sales growth decelerated in the most recent four weeks to 14.6 per cent, down from 18.9 per cent in June.
'However, we are clearly a long way off a complete return to normality. Footfall was still 15 per cent lower during the past four weeks and the average spend on a supermarket trip was £25.05, 35 per cent more than the same period last year, as most people continue to eat more meals and snacks at home.'
While pubs, bars and restaurants have reopened, many consumers still claim to be uncomfortable with eating out, which is expected to continue to give a boost to the take-home grocery and takeaway food sectors.
There are signs that shoppers might be growing more confident and travelling further afield for their weekly shop, McKevitt said. "Convenience stores were a lifeline for many people in the early days of the crisis, providing essential supplies close to home. Sales from these types of stores are still up by more than a quarter year on year, but they attracted 2.6m fewer shoppers through their doors than at the peak of lockdown in April.
'Consumers are clearly growing more comfortable getting in their cars or taking public transport, as the average distance travelled to a grocer has gone up to 4.9km, a 10 per cent increase from the April low."
Online continues to grow
The growth in online grocery sales continues and increased to 92 per cent this month, marginally higher than the previous four weeks. The channel now accounts for 13 per cent of all grocery sales in Britain, up from 7.4 per cent in March and reflects a significant increase in capacity by the grocers. Ocado sales rose by 45.5 per cent during the past 12 weeks, boosting its market share by 0.3 percentage points to 1.4 per cent.
Among the stores, all of the big four experienced strong sales growth in the past 12 weeks, in line with the overall market trend. Morrisons' sales rose 17.4 per cent and helped it to gain market share for the first time since 2015.
Tesco sales rose by 15.1 per cent, Sainsbury's by 13.5 per cent and Asda by 11 per cent. Iceland's growth reached a new record high of 34.1 per cent, and its market share was up from 2.2 per cent in 2019 to 2.5 per cent this year.