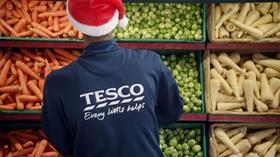 Health-minded Brits are creating the biggest demand for fruit and vegetables this century, according to Tesco.
Since the first lockdown started last year, stay-at-home Brits with more time on their hands have been able to spend more time at home cooking. Tesco said that trend has led to record-breaking weekly demand for vegetables, fruit and salad.
Among the most popular items being bought are Maris Piper potatoes, sales of which are up by 60 per cent on a year ago, limes (up 60 per cent), aubergines (+50 per cent), butternut squash (+50 per cent), leeks (+40 per cent), red onions (+30 per cent) and apples (+10 per cent).
Tesco's announcement came as the British Onion Producers Association and Brassica Growers Association alsodetailed soaring sales of their products over the past year.
Tesco produce category buying manager Emma Richards said: "Shoppers are buying more vegetables, fruit and salad than at any point in the last 20 years as a result of having more time on their hands to cook but also in order to eat more healthily during these challenging times.
"In particular we are seeing extremely strong demand for UK-grown vegetables used in roasts, stews and soups so it looks as if many people are going back to old family recipes or digging out cookery books now they have more time at home.
"Chestnut mushrooms, which are high in vitamin D, have also seen a major increase in popularity over the last 12 months and fruit such as apples, pears, and berries have all seen record growth in the last year."
The best-performing mainline fresh produce item is the Maris Piper potato, which has seen demand soar in the last year. Supplier Branston says that there has been a shift towards family warmer meal occasions with roast dinners in particular proving popular.
Branston marketing director Lucia Washbrook said: "Family meal occasions are playing a key role in the pandemic with people spending more time together as working from home has become the new norm."
Apples have been more in demand in the last year too. Supplier Richard Hochfeld said it has seen an increase of around 25 per cent in its supply of apples to Tesco in the last year, which works out at around an extra 100 million apples.
The firm's managing director of apples and pears, Chris Guindi, said: "Shopping habits have changed in the last year and people buy more but shop less frequently. As a result shoppers want their produce to last longer in the home. Apples have amazing storage capability which has helped increase their popularity.
"Additionally, we believe that everyone was trying to eat more healthily and everyone knows the old adage about 'an apple a day keeping the doctor away!'"