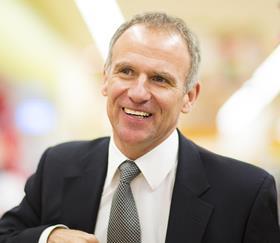 Tesco has warned that the coronavirus pandemic could hit its bottom line to the tune of almost £1 billion, although the benefits of extra sales, business rate relief and good management should offset the loss.
The supermarket leader this week announced its full-year results for the 52 weeks to 29 February, with group sales falling 0.7 per cent at actual rates to £56.5 billion. Operating profit before exceptionals and amortisation stood at a healthy £3bn, up 13.5 per cent on last year's figure.
Despite that, and the fact that consumers are spending record amounts in supermarkets as the effects of the Covid-19 lockdown take hold, Tesco warned that the situation is having a material impact on operations as it incurs significant extra costs, particularly in payroll as it recruits new staff and covers the pay of absent colleagues.
Tesco said it was impossible to predict the full financial impact of the crisis on its 2020/21 figures, but it could hit the business with additional costs of anything from £650m-£925m as a result of increases in payroll, distribution and store expenses.
'If customer behaviour were to return to normal by August it is likely that the additional cost headwinds incurred in our retail operations would be largely offset by the benefits of food volume increases, 12 months' business rates relief in the UK and prudent operations management,' chief executive Dave Lewis said.
"Covid-19 has shown how critical the food supply chain is to the UK and I'm very proud of the way Tesco, as indeed the whole UK food industry, has stepped forward. In this time of crisis we have focused on four things: food for all, safety for everyone, supporting our colleagues and supporting our communities.'
Lewis added that initial panic buying has subsided and service levels are returning to normal.
Of the retailer's full-year results, outgoing boss Lewis said Tesco's turnaround was now complete and it is well placed to serve all of its stakeholders.
"Over the last five years we have focused on serving customers better, re-engaging our colleagues, completely resetting our relationships with our suppliers and as a result we have been able to add value for our shareholders.
'These endeavours put us in a strong operational and financial position to deal with the challenges of Covid-19.
'I would like to thank Tesco colleagues for their contribution to this turnaround journey and for their unbelievable commitment as we face into the Covid-19 crisis. Their contribution continues to be immense."