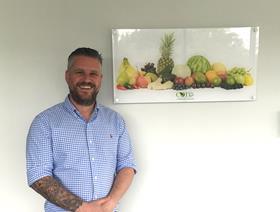 There's nothing quite like a good rags-to-riches story, especially when it involves hard work and an unflinching desire to succeed.
Back in 2011, Andy Beale's new company Corefresh did not begin life in the most auspicious circumstances. "When we first started it was just after the recession so it was the wrong time really to set up the company, and on top of that my girlfriend [and now wife] and I had just bought our first house together, and it was on stilts," the 43-year-old former Fyffes, Capespan and Del Monte man recalls. "We'd had the front and back of the house taken off, and the first job we did was turn the garage into an office. Basically we had an office, but no house, and we'd go stay at my mum's in the evening while the house was being done."
From small acorns mighty oaks can grow, and Corefresh's first year surpassed all expectations: hoping for a £90,000 turnover in his opening 12 months, managing director Beale instead ended up doing £2.6 million out of his garage. "But the funny thing was that because it went so well you get certain customers that want to come and visit you," he says, recounting with a smile how clients would comment upon his purchase of a new sofa or TV as he furnished the room.
It was clear that a more professional-looking setup was needed, and before long Corefresh had taken a small office in South Darenth in Kent – big enough for about four people. It's been onwards and upwards ever since as the business moved through the gears, renting a 16,500 sq ft packing facility in Erith back in 2014, establishing a supply network that stretches from Brazil to Egypt and many other countries, working closely with UK growers and setting up a small office in Spalding, and most recently, Spain. And now, the cherry on top: the company has just moved into its own, brand new 40,000 sq ft facility in Rochester, which it is currently kitting out ahead of a full opening this summer.
With a significant further sum spent on equipment, this is no small investment for Corefresh, but Beale says the company doesn't want to do things by halves: "This is going to be one of the best, most modern, cleanest facilities in the fresh produce business," he insists. "We are doing special things even with the floors in the packhouse, which has a special compound that is durable and strong, good for your feet and has got a bit of grit so people don't fall over. We are trying to do not just what the retailers require but also what the packers and the line leaders and operators need." From 120 pallets at Erith, the new site can hold up to 1,200, emphasising the size of the upscale it has undergone.
Corefresh isn't set up to be a specialist in any single product. While Beale says all types of fruit, salad and vegetables are catered for, the business focuses on supplying around 30 lines, and will also look to source other products if its customers require them. It is supplying the retail, catering and processing sectors, though it is focusing on fresh wholehead produce and does not have plans to process product itself.
It's a tough market out there, as Beale freely admits, and margins can be tight and competition strong. So what's Corefresh's USP? Beale says it comes down to hard work and the human touch. "Our point of difference is that we are an open book and I'm completely hands on," he says. "So I know from the ground up what we need to do. Managing directors aren't usually downstairs cleaning the toilets, or sweeping the yard, but our personal touch as a collective is we are all involved. We all see how important it is to make sure what we send is right every time. And if I'm hands on, everyone that works for me doesn't have to be told to be hands on too, they know that's how it should be. This weekend alone I was here cleaning the toilets on Saturday and on Sunday I was loading the lorries to go to the retailers, so everyone can have a bit of time off as we've been doing 24 hours the last couple of weeks. It's about the personal touches."
There's still time for a bit of charitable work – and last year, touched by family experience, the company approached Orange County Choppers in New York to build a special Corefresh-branded motorbike, which was then auctioned off in aid of the Teenage Cancer Trust.
For now, the focus is on completing the move into the new site, as well as sticking the company's head above the parapet more in terms of industry profile. Beale has adjusted his expectations as the company has grown. He admits that initially he would have been thrilled to have a £3m business, but now there are much loftier ambitions, buoyed by the fact that this year it is expected to turn over £13-14m.
"You can't say no to opportunity, and you have to embrace it as it comes," he says. "I see this being miles bigger than what we are now – fifty, sixty, seventy million – but we have a long way to go to get there. We have a lot of change coming, a lot of new roles coming up and a lot more structure within our business."
If Corefresh really does grow on that scale, it could be challenging for a place in a future edition of the FPJ Big 50 Companies, making a refreshing new face disrupting the established order. That would most definitely represent a long and satisfying journey from those early days working out of a garage in an unfinished house on stilts. Mighty oaks indeed.