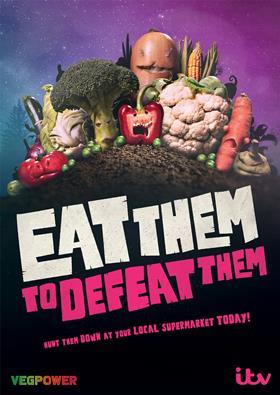 When Veg Power's campaign director Jo Ralling was invited to a meeting at ITV about its drive to boost children's veg consumption, it's fair to say she got more than she bargained for. She hadn't realised the room would be filled with the channel's top brass, and more importantly she hadn't expected them to be so keen to collaborate.
"I arrived thinking I was just going to have a cup of coffee with one person but actually walked into a meeting room with top ITV executives – hilariously in only a T-shirt and jeans. When they asked how they could support Veg Power I jokingly said: 'Give us a bunch of ads on the X Factor'. It was the beginning of an amazing partnership and they agreed to come on board as a campaign partner, offering us load of free advertising space. The whole campaign just spiralled from there."
Veg with an edge
Clearly there is a sharp need to boost vegetable consumption, especially among kids – and even more so among those from low-income families. The Food Foundation's analysis of the National Diet and Nutrition Survey found that 80 per cent of primary school-aged children don't eat the recommended 3.5 portions a day.
Pitiful advertising budgets for fresh produce are part of the problem, and to the dismay of health experts and fresh produce suppliers alike, research by the Food Foundation shows that only 1.2 per cent of the millions spent on advertising food and drink goes towards promoting veg. It is no secret that budgets for confectionery and fast food eclipse healthier marketing spend.
For that reason, the Eat Them to Defeat Them campaign, supported by award-winning ad agency adam&eveDDB, is ground-breaking. Last year, ITV offered up £2 million of commercial airtime, with Veg Power securing an overall media campaign with a market value of £5m.
The campaign's style and narrative is also unprecedented – a far cry from previous largely unsuccessful attempts to boost fruit and veg consumption. As Veg Power chair Baroness Rosie Boycott puts it: "For many years we have been telling kids that eating veg was good for their health, as cartoon carrots danced under rainbows to repetitive jingles." By contrast, the Eat them to Defeat Them narrative sees "the rise of evil vegetables plotting to take over the world, and casts kids as heroes marching into battle to save humanity from the veg".
The 60-second advert is a mini spoof action-horror movie – the centrepiece of a wider multimedia campaign that has deservedly won a whole host of awards including FPJ's Editors' Award at last year's UK Fruit & Vegetable Awards.
A strong start
One year on, it's time to assess the impact the campaign has had so far, before the launch of Eat Them to Defeat Them 2020 in February. "This report is just the beginning of our journey," says Boycott. "One campaign is not going to change the world. But the positive results we have seen already are nothing short of an extraordinary start."
Indeed, sales data from econometrics specialist Pearl Metrics and data analyst Nielsen show there was a 2.3 per cent uplift in vegetable sales during the 12-week campaign. This helped generate an extra 17.7m unit sales of vegetables with a retail value of £16.2m.
In addition, research by the independent researchers Childwise and YouGov suggests that attitudes and behaviour among children and their parents have started to change. A YouGov survey of 1,000 children and their parents showed the advert was liked by the majority of kids (64 per cent), with two in five agreeing it would make them want to eat more veg. When it came to their parents, half agreed it would make their primary school-aged children eat more veg.
In terms of actually changing behaviours, some 18 per cent of parents said their children had eaten more veg as a result of the advert, with 42 per cent of younger parents reporting this. On the kids' side, 29 per cent said seeing the advert had made them eat more vegetables. If the children's claims can be trusted, this is the equivalent of 650,000 children eating more vegetables as a result of the campaign.
Impressive reach
Although there is still lots of room for improvement, these are encouraging figures that are testament to the campaign's wide reach. The TV advert was shown in almost 2,000 spots on ITV's network to a total audience of 38.2m people. In one ad break during The Voice, ITV even achieved what it thinks is a world first: an ad break dedicated entirely to veg, featuring a full-length Eat Them to Defeat Them ad plus six others.
At retail there were in-store and online activations by all of the UK's top-ten food retailers plus Birds Eye, including point-of-sale advertising, veg-only ads, price promotions and special offers.
There was also lots of activity on social media, with celebrities rallying to support the campaign and the Eat Them to Defeat Them hashtag generating over 9,500 unique mentions on Instagram and over 5,300 on Twitter. The potential impressions reach was 169m. During the campaign, ten different vegetables were featured as a Veg of the Week with top chefs, including Jamie Oliver posting recipes, retailers launching offers and promotions and schools organising themed activities.
The ad was also shown at cinemas across the country during the February half term, as well as being run free of charge in Metro, The Guardian and The Telegraph; on multiple billboards; in the national children's newspaper First News; and through a partnership with children's comic Beano.
What next?
The question is: what next? The good news is that ITV and Veg Power are teaming up again for Eat Them to Defeat Them 2020, and this time they'll be joined by Channel 4 and Sky Media, which will boost the reach and frequency of the campaign. The aim is not only to increase the size of the advertising campaign but for more activation in stores and an improved programme in schools.
"We recognise that while this campaign has helped win many veg battles in many UK households, we haven't won the war," says ITV's chief executive Dame Carolyn McCall. "We're committed to encouraging even more children to eat more healthily."
Tackling a health crisis
The aim of Eat Them to Defeat Them is to get every child in the UK to eat one more portion a day. And from both a health and environmental perspective, the evidence in favour of such a campaign is impossible to argue with.
Britain now has the second-highest rate of obesity in Europe, and by the time children start school, one in four of them are overweight or obese. In addition, diets which are low in fruit and veg are associated with higher rates of coronary heart disease, stroke and several diet-related cancers. And excessive sugar consumption is contributing to a national diabetes crisis – in 2018 there were 3.8m people in the UK that had been diagnosed with the disease.
This diet-driven crisis is crippling the NHS, and the costs associated with obesity-related disease are £6.1 billion every year for the health service, and £27bn for the wider economy.