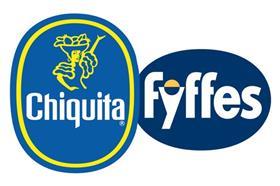 Which way will they go? After more than two months of increasingly bitter negotiations and bids, tomorrow morning (24 October) the shareholders of US multinational fresh produce company Chiquita will vote either to reject or to accept the latest takeover bid from Brazilian entity Cutrale-Safra, follow through with the original Fyffes merger or indeed postpone their decision.
10 March
Chiquita and Fyffes reveal merger plan
Deal would create world's largest banana supplier with annual revenues in excess of US$4bn.
11 August
New bidders aim to swoop for Chiquita
Chiquita-Fyffes deal could be in doubt after juice specialist Cutrale and investment firm Safra make new takeover proposal.
12 August
Chiquita to 'review and consider' offer
Chiquita reacts to Cutrale/Safra bid, but states it 'continues to strongly believe' in the merits of the proposed Fyffes merger.
15 August
Chiquita rejects takeover
The Chiquita board of directors votes unanimously to turn down the unsolicited takeover bid by Cutrale/Safra to acquire Chiquita's stock for $13 per share, received 11 August.
15 August
Cutrale/Safra react to Chiquita decision
Groups criticise Chiquita board after rejection of joint bid for the US-based fresh produce multinational.
18 August
Safra and Cutrale on the offensive
Groups file preliminary proxy materials to solicit against Chiquita's proposed transaction with Fyffes.
27 August
Fyffes in fine form ahead of merger
Fyffes reports strong results for the first half of the year, including a 40 per cent increase in pre-tax profits to €31m, prompting it to increase its annual earnings target (before interest, tax and amortisation) to between €38m and €42m.
3 September
Fyffes moves to correct 'inaccuracies'
Fyffes files an investor presentation with the US Securities and Exchange Commission (SEC), to correct what it calls inaccurate information regarding the 'misleading statements' made by the Cutrale Group and the Safra Group, in connection with Fyffes proposed combination with Chiquita Brands International.
4 September
Chiquita 'fears shareholders back Brazilians'
Cutrale/Safra release statement saying that the most recent communication by Fyffes and Chiquita – in which Fyffes' highlighted its strong track record, and Chiquita said that Cutrale and Safra had presented 'misleading statements' with 'flawed calculations' – simply highlighted the fear that Chiquita's shareholders would support Cutrale-Safra.
8 September
Advisory firms wade into Chiquita debate
Glass Lewis & Co and Egan-Jones have questioned the valuation process of the Chiquita Board and recommended to their subscribers to vote against the Fyffes transaction, and to vote to adjourn the special meeting of Chiquita shareholders on 17 September.
Chiquita investors given more time
Fyffes grants Chiquita permission to adjourn shareholder meeting and engage in discussions with Cutrale and Safra.
10 September
Cutrale-Safra bid to delay Chiquita vote
Brazilian companies enter into confidentiality agreement with Chiquita and confirm support for merger decision adjournment.
26 September
Fyffes tries to woo Chiquita investors
Chiquita and Fyffes sweeten the deal for Chiquita shareholders by promising to grant the US group's stakeholders one share in ChiquitaFyffes for each share they currently own, but at the same time handing them what amounts to a final deadline for making up their minds.
13 October
Court approves ChiquitaFyffes revision
Irish High Court grants the necessary order in terms of the amended combination proposal made by Chiquita and Fyffes. Fyffes shareholders will now receive 0.1113 ChiquitaFyffes shares for each Fyffes share they hold, and Chiquita shareholders will receive one ChiquitaFyffes share for each Chiquita share they hold upon completion of the merger.
15 October
Brazilians submit new Chiquita offer
Cutrale/Safra announce that they have made a definitive offer to acquire all the outstanding stock of Chiquita Brands International for US$14 per share in cash, a deal they have said represents a 'Chiquita Superior Proposal' under the terms of the Fyffes Transaction Agreement.
16 October
Fyffes responds to new Brazilian bid
Irish company tells shareholders and analysts that planned merger deal with Chiquita still represents best value.
17 October
Chiquita rejects new Brazilian bid
US-based firm's board unanimously votes to reject improved offer of US$14 per share, encouraging shareholders to support Fyffes merger.
Chiquita bids: war of words escalates
Cutrale/Safra issues strongest slams Chiquita board for allegedly misleading shareholders, destroying value and grossly exaggerating.
21 October
Advisory firms split on ChiquitaFyffes
Influential group ISS says it now supports Chiquita's plan to merge with Fyffes, while Glass Lewis remains opposed.
23 October
Brazilians submit updated Chiquita bid
Cutrale-Safra has upped its offer to US$14.50 per share, representing 'significant premium on valuation of ChiquitaFyffes deal'.