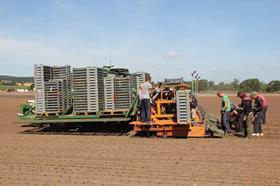 The government has pledged to quadruple the annual immigration quota for seasonal agricultural workers to 10,000 from next year to tackle post-Brexit labour shortages, the Sunday Telegraph has reported.
Under the current SAWS pilot the UK only allows 2,500 people from outside the EU to work temporarily on British farms each year, and this number has been criticised by the sector for being far too low.
"Our immigration system should reflect the needs of the farming sector, and expanding and continuing the seasonal workers scheme will be an important part of that," Defra secretary Theresa Villiers told the Sunday Telegraph.
According to the newspaper, the expansion of the scheme will be formally announced as part of the Conservative Party's campaign in the run-up to the general election on 12 December.
Reacting to the news, NFU horticulture board chair Alison Capper said: "The next government must keep the scheme moving forward to ensure the industry has access to the full 70,000 workers required that supports British growers and enables them to deliver high quality fruit and veg for the public."
In October, NFU president Minette Batters said the labour situationin horticulture was reaching crisis point and met with Defra minister George Eustice to press the industry's case, as well as making representations to the Home Office and even Number 10.