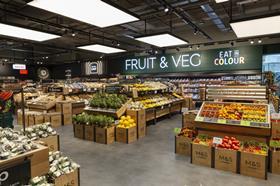 Marks & Spencer has reported a disappointing set of Christmas trading figures, despite some positivity from its Food division.
The upmarket retailer suffered from coronavirus restrictions, which badly hit the performance in its Clothing & Home departments. Overall like-for-like UK sales for the third quarter fell 7.6 per cent to £2.5 billion, with a 24.1 per cent collapse in Clothing & Home sales as consumers were forced to stay at home.
Food sales rose 2.6 per cent to £1.7bn in the quarter, and were up 4.4 per cent in December, however even those figures are somewhat muted compared to the strong figures other grocers have reported.
Chief executive Steve Rowe argued food sales were impressive given reduced food-on-the-move sales and lower footfall in town and city centres. 'During the four-week lead up to Christmas, customers responded to our innovative seasonal product, and LFL sales ex-hospitality and franchise grew by 8.7 per cent, with large retail park and Simply Food stores significantly outperforming,' he explained.
'Operating changes including the Vangarde supply chain programme and investment in store technology resulted in stronger service and reduced waste. On top of this Ocado Retail further sustained its recent positive performance with the participation of M&S products remaining strong.'
International sales fell 10.4 per cent to £239m over the quarter as the business suffered from changing Covid restrictions around the globle, though there was a doubling of online sales.