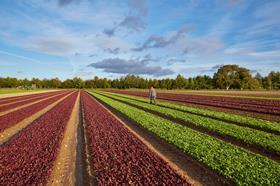 From its humble beginnings supplying market gardeners in the Thames Valley in the 1940s, Surrey-based Tozer Seeds has grown into an international business providing vegetable seed to commercial growers around the world.
With headquarters in the UK, Spain and the US, the family-owned seed company is now looking to expand in China where it already has a representative working on seed research and sales out of Shanghai.
"We currently sell to China, but it's nowhere near its fullest potential," reveals Tozer's commercial director, David Rogers. "We want to expand our activities and presence there, maybe opening an office there in future."
The firm, which celebrated its 75th anniversary last year, has seen considerable growth within the last decade, launching a company in California and trebling the area of its Spanish facilities among other developments. This March it will unveil a new laboratory on its home ground in Cobham, in which scientists will carry out a wide spectrum of work on seed breeding and quality, as well as pest and disease issues.
In addition to expanding in China in 2020, Tozer also wants to develop its Spanish and US markets this year, while continuing to grow its UK sales – still its most important market.
"Brexit is potentially a serious problem for us," says Rogers, speaking in early January. "But hopefully we won't have a hard Brexit. Our biggest worry last year was having a 'no-deal' brexit, but now that hopefully isn't happening, we hope it will be OK."
In addition to exporting its seeds to countries around Europe, Tozer grows the majority of its seed crops in Europe (mainly Italy and France). Therefore any disruption to trade would have an enormous impact on the company, Rogers explains.
Compared to most other international vegetable breeding companies, Tozer is a small-scale operation, he adds. "We work predominantly on niche, UK-centric products like parsnips and celery, for example.
"We mainly sell our parsnip seeds to the UK, Australia, New Zealand, the US and South Africa.
"Key factors for parsnip growers are yield and disease resistance. A big change was when retailers started to pre-pack parsnips, because then generally you want more uniform-looking parsnips, so shape becomes more important.
"We created a much whiter parsnip variety – Warrior – that was really for demand outside the UK, which we released last year. In the US, Australia and New Zealand the markets prefer whiter-looking parsnips."
Meanwhile, celery is seeing something of a revival in the UK at present, as the US health craze for juicing, championed by Hollywood celebrities like Gwyneth Paltrow, spreads across the Atlantic.
"Celery has been picked up as great for health in juicing," Rogers explains. "In the US last year, celery production shot up because demand was outstripping supply. This trend has travelled across to the UK. These things influence the market, and what we do."
Tozer is currently in its second year sponsoring a PhD project at the UK University of Reading on enhancing celery's nutritional value (just one of several doctorates the company funds at any given time). "The question is whether there will be a market for it," says Rogers. "There's no clear-cut answer."
Seed breeding is all about specifics, he adds, with all sorts of different traits needed for different products – shelf life, colour, yield, disease resistance, and the use – or not – of plastic packaging.
In the UK, some of Tozer's most recent seed innovations include its licensed kale and Brussels sprout cross – the Kalette – which it is now heavily marketing; its hybrid chilli pepper – Armageddon – said to be the hottest in the world; and its F1 pumpkin hybrid Wicked, which saw its first commercial production last year in the UK.
"The biggest issue affecting the UK seed market outside Brexit is a movement towards eliminating protective chemicals used on seed," Rogers says. "Many agro-chemicals have already gone, and the widely used fungicide Thiram is banned from the end of this month (January). There are other fungicides available, but we don't know the effect this will have on the crop. The big worry for producers is whether they sustain quantities and quality without them. These directives are coming from Europe," he adds, "so it remains to be seen whether we will stay aligned to these rules when we leave Europe. Right now, we just don't know."