Retailers and suppliers must seize opportunity to add value to their offer amid price competition and surging input costs, say industry experts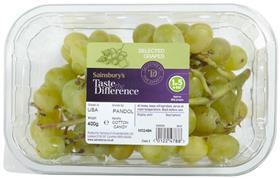 The UK table grape category has to start focusing more on value and less on price amid rising input costs and tightening margins.
That was the message from a session on the state of Britain's grape market at Fruitnet's Global Grape Congress, which took place as an online event last Thursday (17 March).
In a video report presented by Fruitnet MD Chris White, Paul Farmer (Marks & Spencer), Karen Cleave (Richard Hochfeld Malinverno), Rupert Maude (Sun World) and Sam Franklin (AM Fresh) spoke about the key challenges and opportunities in the sector, including: inflation, the supermarket price war, sustainable packaging, labour costs, shipping delays, varietal development and health claims.
Cleave explained that the UK grape sector has traditionally been a demanding market but one that paid well – but this is not necessarily the case anymore, she said.
Retailers still have high demands but with the supermarket price war continuing, and input costs skyrocketing, the margins of producers and suppliers have been eroded. She is no longer convinced the UK is "the best-paying market".
Sun World's Rupert Maude said thankfully there has been a realisation in the past few months from a number of retailers that they need to adopt more sustainable pricing.
There was general agreement among the session's speakers that following the arrival of a raft of flavoursome new varieties, there is an opportunity for retailers to add value through clever marketing – by clustering new varieties into various flavour profiles and encouraging more repeat purchases.
Marks & Spencer tries to do this through its Tutti Frutti line, which groups together high-quality "flavour varieties", indicating to consumers that they are special.
Meanwhile, Sable and Cotton Candy are sold under their actual variety name and are now recognised and appreciated by many shoppers for their sweetness and general flavour. These two varieties "almost sell themselves", said Farmer.
One of the main challenges currently facing the industry, he said, is shipping, the cost of which has surged in the past two years due to the pandemic, now compounded by the war in Ukraine.
The cost of shipping a container of grapes from India has almost trebled, he said, and lengthy delays have become common. It is a long-term problem, he stressed, saying he can't see these logistical challenges "being fixed" until 2024 at the earliest.
"We are not going to see the same level of discounts [on Indian grapes] as before," he said, suggesting that in some cases grape suppliers may have to start looking to new sources and shipping routes because some of the current routes have become too expensive.
To watch the report in its entirety, click here and register as a delegate if you haven't already done so.