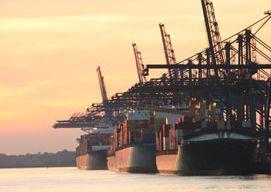 UK port investment topped £1 billion in 2021 despite continuing pandemic volatility, the British Ports Association has revealed.
The figures were published alongside BPA analysis of new trade data that shows how continued depressed demand for fuel is masking a strong recovery across multiple cargo segments.
Investment in port infrastructure in 2021 stood at over £1bn, swelled by several big projects such as the £300 million fourth berth at DP World's London Gateway, which will raise capacity at the container port by a third.
Significant investment in modernising port machinery, pilot vessels and buildings added at least another £75m to the total, although BPA said this is 'almost certainly an underestimate' as the value or existence of much of this investment is not routinely published.
Other notable port infrastructure investments announced in 2021 included the £25m development of the Port of Lowestoft's Eastern Energy Facility, a £50m expansion at the Port of Cromarty Firth, Teesport's new £9.2m bulks terminal, the start of a new £60m programme of works to redevelop areas within Pembroke Port, and a £40m of investment in the Port of Leith by Forth Ports
Port infrastructure investment in 2020 remained strong at over £600m despite the pandemic. Notable projects includeHarwich Haven's £120m channel deepening for the Port of Felixstowe, which is currently underway.
The Harwich channel deepening will mean that the biggest container ships in the world will be able to access Felixstowe, which handles over a third of the UK's containers.
Port investment is spread widely, with container ports, offshore energy and cruise all seeing hundreds of millions of pounds of private capital pouring in, underlining strong confidence in the sector and its potential for growth.
These investment figures follow new data for Q3 of 2021 showing that volumes of most cargo types have returned to pre-pandemic levels or are stronger than they have been for years.
UK port volumes saw an unprecedented decline in Q2 2020, primarily caused by a huge drop in inward cargo volumes. While overall port volumes for 2021 look set to remain lower than pre-pandemic peaks, BPA said this is caused by depressed oil and gas volumes.
Mark Simmonds, BPA's director of policy, said: "We are pleased to see surging investment in UK ports across a wide variety of sectors, from containers to offshore energy. Ports remain attractive to investors as a well-managed industry with strong long-term growth prospects.
'Policy makers can be confident that UK ports will continue to invest in critical infrastructure and new plant and equipment. Ports are, and always have been, investing in 'levelling up' priorities, supporting over 100,000 highly productive jobs in coastal communities. As well as the direct economic impact, the sector keeps the country supplied with the goods and energy it needs.'
He added: "New analysis today shows that many ports are already bouncing back and meeting demand across a number of sectors, although there remains significant volatility from a number of sources and this looks set to continue.
"What we are hearing on the ground is also starting to show in the data: ports remain busy but in many cases are dealing with unprecedented volumes. We expect this to continue throughout 2022. Ports are vigilant for emerging issues caused by ongoing pandemic issues and are taking pre-emptive steps to protect their resilience.
"This new analysis of container volumes suggests that it is not increased volumes that has been causing congestion in some ports, but some goods being left in port for longer than usual because of driver shortages and tight warehousing capacity."