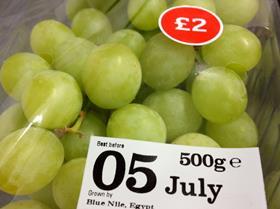 The UK has signed a trade deal with Egyptto strengthen political and trade ties between the two nations after the Brexit transition period.
The deal secured betweenthe British Ambassador to EgyptSir Geoffrey Adams andEgypt's Assistant Foreign Minister for EuropeBadr Abdelatty will give British firms and consumers continued preferential access to the north African market.
The UK government said the agreement will provide tariff-free trade on industrial products, as well as liberalisation of trade in agriculture, agri-foods and fisheries, helping to boost trade and investment.
In 2019 total trade on goods and services between the two countries was worth £3.5 billion. Vegetables and fruit are a major import from Egypt to the UK, last year amounting to £160 million.
Fresh-cut fruit specialist Blue Skies, which grows and processes fruit in Egypt welcomed the news.
The company's founder and chairman Anthony Pile said: "As a British business that has invested significantly in Egypt over the last 18 years, a continuation of the free trade agreement between Egypt and the UK is of critical importance to Blue Skies.
"The agreement is vital to securing jobs, prosperity, sustainability and indeed driving much needed economic growth in both Egypt and the UK.
"Now, more than ever in the current international climate, we need the security of a seamless continuation of free trade to safeguard the future of our business."
International Trade Secretary, Liz Truss said: "This agreement is a clear signal of the UK's enduring commitment to our close bilateral relationship with Egypt and will help strengthen trade and investment ties in the future.
"The UK remains committed to securing deals that support British jobs, deliver significant savings and help drive the post Covid-19 recovery."
In the past two years the UK Government has now signed or agreed in principle Free Trade Agreements (FTAs) with 55 countries including Chile, Israel and Kenya.