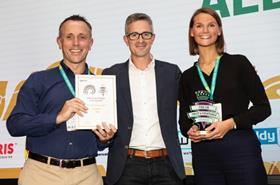 Unsung Hero
Winner: Kriss Porada (Fresh Food Co EU)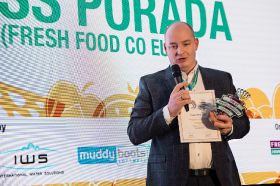 With 10 years of experience in the fresh produce supply chain, Kriss Porada joined Fresh Food Co EU in August 2018 to head business development for the new company. Within three months of taking his new position, using his high-energy, 'cut-to-the-chase' style to keep his clients engaged, and his unique ability to quickly gain credibility using his wealth of product knowledge and experience in cold chain management, Porada developed working relationships with suppliers across the world and serviced a fast-growing customer base in the UK and Europe.
Described by his teammates and clients as a passionate and enthusiastic individual, Porada works around the clock putting his clients' needs first. He has a proven ability to promote team building within the organisation and fostering networks that contribute to positive value creation for the business.
Young Person of the Year, sponsored by Henderson Brown Recruitment
Winner: Adam Lockwood (Lockwood Salads)
Starting his career as a tractor driver with no prior experience in horticulture, Adam Lockwood began working for LJ Betts while studying at university. He quickly worked his way up to assistant farm manager, helping to grow the business substantially over several years.
After developing a specialist interest in babyleaf salad, his next role as farm manager for Emmett Italia, establishing a new farm in a foreign country, gave him the courage to take the leap and set up his own farm business in 2018.
Lockwood Salads was founded and funded entirely on Lockwood's own, at the tender age of just 29. Based on the Warwickshire/Leicestershire border, buildings are leased and land is rented within an established rotation.
The business produces 12 tonnes of baby spinach, red chard, bulls blood, rocket, cress and baby red lettuce each week, which is supplied to Lidl through JW European, and also packed into branded Lockwood Salads bags.
Women in Produce Award
Winner: Harriet Duncalfe (H&H Duncalfe)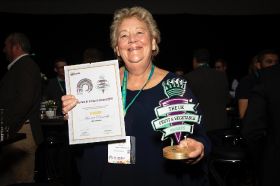 During her career, Harriet Duncalfe has been a member of the Defra Hort LINK Programme Management Committee, an industry representative to the Horticultural Innovation Partnership and chair of the AHDB Soft Fruit Panel for several terms. While chair of the Soft Fruit Panel, she was instrumental in the formation of the UK Spotted Wing Drosophila Working Group (UKSWDWG).
As UKSWDWG chair, Duncalfe ensured its 25-strong membership comprised representatives of all stakeholders including government policymakers, regulators, scientists and industry sectors. By raising funds from a range of sources, she also enabled a comprehensive research programme into SWD to be carried out, which was managed by the group. As a result, the UK has not suffered a significant problem with SWD to date.
Currently, Duncalfe chairs Berry Gardens' Grower Research Advisory Panel and, in her spare time, she mentors PhD students, offering invaluable insight and support in their chosen field.
The Sustainability Award, sponsored by Muddy Boots Software
Winner: Aldi
In 2018, Aldi made the bold step of pledging to become carbon neutral by 2019.
It focused on a systematic reduction of carbon emissions through purchasing 100 per cent renewable electricity, switching to less harmful refrigerant gases and using waste heat from Aldi's refrigeration systems to heat its stores.
Aldi is one of the biggest installers and operators of solar panels in the UK and has invested £31 million in photovoltaic power since 2012. Refrigerant gases are known to have a major impact on the environment, so as part of Aldi's international climate strategy, it has focused on a systematic phase out of older refrigeration systems to newer cabinets using less harmful gases.
As well as reducing carbon emissions by optimising its energy use via its ISO 50001 accredited energy management system, Aldi has partnered with external organisations such as Climate Partner to purchase the remaining carbon offsets.
The Innovation Award, sponsored by Coveris
Winner: Packaging reduction (Wealmoor)
One of the sustainability areas which has been a key focus for Wealmoor is plastics and reducing its use within its supply chains to more sustainable options. The company is claiming a first with a new solution for its herb boxes, moving away from polystyrene to a polypropylene box which has benefits including: a reduction in carbon footprint; it is 100 per cent recyclable so no need to incinerate or landfill; it is lighter in weight and can be flat packed; and reduces the amount of unused transported space, meaning a saving on logistics and storage.
Marketing or Digital Initiative
Winner: AVA Berries(Angus Soft Fruits)
This summer Angus Soft Fruits invested in a strategic marketing plan to increase awareness and trust among end consumers of its premium berry brand, AVA Berries.
ASF conducted extensive market research to identify its target audience and developed a seven-month integrated marketing campaign designed to reach ABC1 health-conscious consumers in geographical areas where AVA berries are widely available.
It partnered with the Edinburgh Marathon Festival as its 'Official Strawberry Supplier' and sampled AVA berries across the weekend, also entering six members of staff who competed wearing AVA berries-branded kit and partnered with key influencers to share training and fitness plans. Social media marketing and PR activity included sample drops to target journalists and influencer partnerships, as well as sharing creative content and recipes across our channels.
Charitable Initiative
Winner: Sally Orange
Inspired by her surname, Sally Orange completed her first marathon dressed as an orange. In a bid to show that sport and exercise doesn't have to be about being the fastest or the fittest, but is about having fun and making others smile, she has raised over £30,000 for charity. She has so far completed 45 marathons (including one on every continent) dressed as different pieces of fruit and has a Guinness World Record for the fastest marathon dressed as a piece of fruit, as well as another for running as a nut.
Orange has climbed Kilimanjaro dressed as a bunch of grapes, completed Ironman triathlons dressed as an apple, and run and cycled 100 miles across a frozen lake in Mongolia in temperatures as low as -50 dressed as a chilli pepper. She has also ran as a banana in Afghanistan and a pear in Antarctica.
She has now taken to applying her talents to mentoring, educating and organising, bringing inspiration to a variety of audiences, as well as starting a series of events aimed at children, focused on health and wellbeing.
Wholesale or Foodservice Supplier of the Year
Winner: Angus Soft Fruits
ASF's annual market appraisal highlighted the rapid growth in the out-of-home sector, which would encompass foodservice and wholesale customer outlets.
To ensure it was aligned with this trend ASF set itself the target to increase the foodservice unit turnover by 60 per cent year on year, but it surpassed that target and achieved growth of almost 100 per cent in the department.
It came after ASF formed a strategy in line with its values: to exceed, innovate, collaborate, be efficient and operate with integrity. The strategy focused on developing its brands – Angus Select, AVA Berries and Good Natured – developing long-term collaborative partnerships with key customers, tailoring its procurement process to foodservice requirements, streamlining its operational process, and resourcing its team with industry experts.
Fruit Grower/Supplier of the Year, sponsored by International Water Solutions
Winner: Blue Skies
2018 saw a resurgence for Blue Skies following a tough 2017 and continued uncertainty around Brexit. In 2018, Blue Skies looked to establish three new strategic pillars in order to ensure its sustainability, while upholding its high quality standards and consistency of supply. These pillars were: to protect and grow Blue Skies' core accounts; to expand into new territories; and to launch products in new categories.
In the first pillar, it provided a comprehensive category analysis for all its customers, delivering ongoing high service levels of over 98 per cent, maintaining its award-winning fruit quality and growing sales by nine per cent.
In the second pillar it made significant steps towards entering the US and UAE markets and launched branded juices in Brazil and Egypt. In the third pillar, Blue Skies launched its first dairy-free ice-creams and developed a new range of fresh-fruit ice lollies.
Vegetable Grower/Supplier of the Year
Winner: Flamingo Produce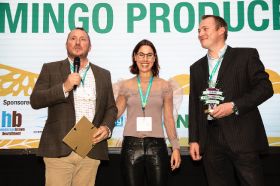 Faced with increases in wages, and a dwindling labour pool in the UK, it became clear that Flamingo's current model of packing imported raw material in the UK was difficult to sustain. So it decided to build on the successes of its pack-at-source experiences in Kenya, to move as much of the packing of product as close to source as possible, giving suppliers increased revenue and decreasing exposure to UK-based uncertainty.
Adopting this model enabled Flamingo to ensure it is fit for the future. Its cost base remains more or less static, it is reducing packaging and food waste, customer prices remain competitive, and revenue for suppliers in developing countries has been increased.
Fresh Produce Retailer of the Year
Winner: Aldi
FPJ Editors' Award, sponsored by Greencell & Westfalia
Winner: Veg Power
Veg Power has shown what can be achieved with boundless imagination and determination, in so doing helping the fresh produce industry gain an unprecedented level of national attention.
In securing £2m of free primetime advertising space from ITV, the organisers of the Eat Them to Defeat Them campaign put vegetables alongside major brands during top shows such as Coronation Street, The Voice and Dancing on Ice. The playful campaign took a creative new approach to persuading kids to eat up their vegetables.
Getting all the major supermarkets to put £50,000 each into the campaign was a further coup, alongside persuading retailers to carry out wide-ranging in-store promotion of the initiative. This was backed by high-level celebrity engagement and public awareness via the press and social media.
Organised by the Food Foundation, the campaign has been a tremendous success and shows that it doesn't always take a big budget to put positive messages into the public's consciousness.