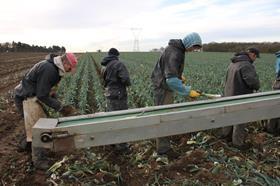 Britain's largest trade union has called for employers to respect the rights of thousands of migrant fruit and vegetable industry workers during the coronavirus crisis.
Migrant employees working in the fields and orchards have been designated as key workers as they are a vital cog in the food production and supply chains.
And trade union Unite said it's more important than ever that rogue bosses do not circumvent rules designed to protect workers' wellbeing. It has called for two measures to be strictly enformed, namely health and safety regulations and a constant monitoring of salaries, which it said are both areas that are open to abuse.
Unite national officer for agriculture Bev Clarkson said:"In the past, there have been cases where migrant workers have been exploited by some employers, but, at this critical junction in the coronavirus emergency, we need to reinforce the message that the rights of migrant workers need to be fully respected.
"There were already shortages of workers in the agriculture and fruit sectors to pick the crops because of the uncertainty created by Brexit, so that's why migrant workers are a vital cog in the food production and supply chains.
"I am sure that the vast majority of employers will respect the migrant workforce and protect their pay at the proper rates and employment conditions.
"But today Unite is putting down a strong marker that we won't tolerate any rogue bosses tempted to make a fast buck during this national emergency."