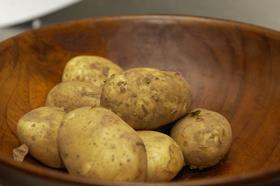 A no-deal Brexit could cause a 17 per cent surge in grocery bills according to GMB.
The trade union hit out at Conservative Party leadership candidates for mulling a no-deal Brexit, which would see the country revert to WTO trading terms, something GMB estimate could lead to a £800 pound rise in yearly grocery costs for shoppers.
A report from Acuity Analysis, released ahead of the GMB's Annual Congress in Brighton, compared the weekly basket of goods in current prices compared to a scenario in which the UK leaves the EU without a trade agreement.
The findings revealed a sample basket of goods would increase in cost by £15.61 per week, amounting to £811.72 per year.
Under WTO price increases a 2.5kg bag of Maris Piper potatoes could rise by 32p, from £2.22 to £2.54, while other basics such as butter could increase by 42p from £1.50 to £1.92, or cheese up by 62p from £2.30 to £2.92.
GMB attributed the price rises to the WTO's Most Favoured Nation rule, which will require the UK paying duties on UK imports and exports.
Tim Roache, GMB general secretary, said: 'Tory leadership contenders who casually throw around the idea of 'no deal' Brexit are completely ignoring what that reality would mean for working people.
"The prices of household essentials will go through the roof if hardliners like Raab and Johnson get their way, but why let people's actual lives get in the way of personal ambition in the Tory Party?
"Either they're negligent in understanding what leaving on WTO terms means or they just don't care.
"If the Tory Party choose a leader prepared to walk us off a Brexit cliff edge, our country will live with the economic consequences of that for a generation. They won't be forgiven easily for that at the ballot box.'