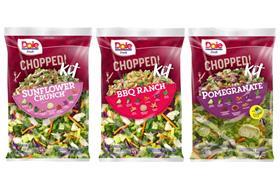 I have talked about my love for the diversity of the prepared salad category in the United States. They are much bolder at incorporating meats, cheeses, nuts, and fruits into the prepped salad category, and it is most definitely the richer for it.
I often suspect that technical reticence to face the challenges associated with allergen control and differing storage regimes is the greater driver of lack of diversity in the UK rather than customer preference. But I could just be a cynic!
The trend within prepared salads is for chopped, which has grown as a percentage of the category, with good shelf space now in all retailers. 'Chopped' is salad where the whole leaf, which usually has a strong brassica element, is finely shredded – think coleslaw mix.
These are then provided with dressings and a few extra toppings. All retailers have at least a Southwest (including 'southwest' dressing, creamy and spicy, shredded cheese and tortilla strips) and an Asian (with a gingery/sesame dressing, almond slivers and crispy wanton strips) but the NPD has differing options including BBQ Ranch, Lemon Kale, Fruity Kale, Garden Chopped, Chipotle and Cheddar, Sunflower Crunch.
One of the technical advantages of these 'cabbage-ier' mixes is an increase in shelf life for both retailer and consumer.
This trend doesn't originate in retailers but can be found in restaurants and fast food chains. If you order a salad in Subway, for example, they ask if you want it chopped and will throw all the ingredients into a bowl and attack it with two giant rolling blades until you have the desired 'shred'.
These salads are very easy to eat at a desk. Fundamentally it is an entire category created and devoted to the fact that Americans can't be bothered to use two hands for cutlery to eat.