The Consumer Prices Index has risen by 10.4 per cent in the past year, heaping further pressure on shoppers
The widely-reported shortages of salad vegetables over the past month have helped drive a jump in the overall UK inflation rate.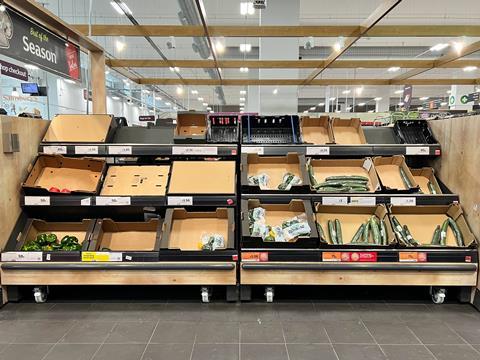 New figures and analysis from the Office for National Statistics show that the Consumer Prices Index rose by 10.4 per cent in the 12 months to February 2023, up from 10.1 per cent in January.
Restaurants and cafes, food, and clothing were the categories providing the largest controbutions to the monthly change, while the recreational and cultural goods and services sectors, as well as motor fuels, partially offset the increases.
NFU president Minette Batters told the BBC that food prices had risen partly because of the "extraordinary costs" farmers were facing, but also because there were fewer growers and shortages had emerged.
The ONS said: "The increase in the annual rate for food and non-alcoholic beverages between January and February 2023 was driven by price movements from eight of the 11 detailed classes, with no significant offsetting downward pushes.
"The largest upward effect came from vegetables, where prices rose in the month to February 2023 by more than a year earlier. There have been media reports of shortages of salad produce and other vegetables, reportedly because of bad weather in southern Europe and Africa, and the impact of higher electricity prices on produce grown out of season in greenhouses in the UK and northern Europe.
"These price movements resulted in an annual rate of 18.0 per cent for vegetables in the year to February 2023, the highest rate since February 2009."