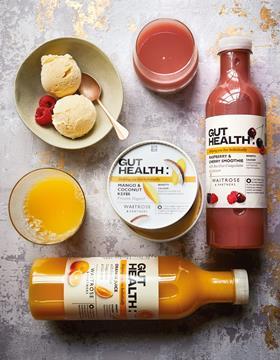 Fruit smoothies and juices are among a number of products launched into Waitrose's new Holistic Living range, designed to help people live a more balanced lifestyle.
The range includes a series of products under the Gut Health brand, which is described as the UK's first own-label range to have a certified gut health claim. The range of 11 new lines is said to have been proven to help maintain a healthy and balanced digestive system, and features a selection of fruit smoothies, juices and kefir products which introduce bacteria to the gut and create an environment where they can prosper.
Joanne Lunn, nutrition manager at Waitrose, explained: "This range of products contain Bacillus coagulan, calcium and chicory inulin. These are all types of prebiotic which don't get absorbed by our small intestine but instead reaches the large intestine and the bacteria found naturally in the gut ferment it."
According to Waitrose Health magazine, gut health is increasingly popping up on shoppers' personal health agenda and consumers are faced with a range of probiotics and advice on how to nourish their gut.
Products in the new range include a Kefir Raspberry Cultured Milk Drink, Kefir Mango Yogurt, Orange Juice, Apple & Pear Juice, Raspberry & Cherry Smoothie, and an Apple & Almond Granola, among other things.
Meanwhile the supermarket has also created Waitrose Thrive, a range of products designed to fit into daily routines and help maintain a balanced lifestyle. With a focus on fresh ingredients that are packed full of flavour, the Thrive range is a mix of 11 new meals which have been designed to be the perfect portion size and offer a quick and healthy lunch or dinner.
Among the products in the range are a Harissa Chicken & Kale meal, Roasted Mushrooms & Aubergine Ragu, and Lamb & Bean Meatballs & Za'atar Roasted Vegetables.
Elen Ormson, Waitrose Health brand manager, said: "This year, research from our Waitrose Food & Drink Report 2021 found that almost 70 per cent of us feel there's more of a need to keep up our mental and physical health now than before the pandemic. We've seen customer behaviour shift with many of us looking for ways in which we can make sure we are getting the nutrients and vitamins we need to stay well.
"Being the first in the UK to have a certified gut health range is groundbreaking and as customers become more aware of the benefits we hope they love the selection as well as the delicious flavours. And with more of us working from home, the quick, nutritious and delicious Thrive meals will be a great go-to product for lunches or dinner after a long day."