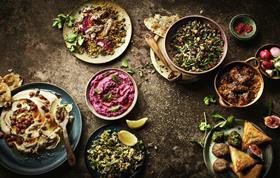 Waitrose is launching a major new range inspired by Middle Eastern cuisine.
The Levantine Table is described as Waitrose's biggest own-label launch of 2021, and is inspired by the diverse and vibrant culture of the Levant, the region of the Middle East that stretches along the shores of the eastern Mediterranean. It focuses on the cuisines of Israel, Jordan, Lebanon, Palestine, Syria, Turkey and Cyprus.
Arriving in stores and online from 12 April, the Levantine Table range will include a wide range of products from scratch cook ingredients such as aromatic spice blends and pastes, to the convenience of prepared meat and vegetable dishes, dips, snacks and desserts.
The range includes 120 food and drink products, including 76 vegetarian products, 40 vegan products, 15 Good Health products and 30 John Lewis homeware and tabletop products.
Among other things there are modern twists on familiar favourites, including a Shakshuka Egg - a vegetarian take on a Scotch egg with spiced tomato and pepper, bulgur and a poached egg in the middle - and Turkish Delight Ice Cream. New condiments include a Spiced Pomegranate Drizzle, and Mango Amba Sauce - a fruity, spicy sauce which is typically served with kebabs and grilled meats.
Waitrose executive chef Martyn Lee said: 'Many customers will be familiar with Middle Eastern foods and know how vibrant, colourful and packed full of flavour they are. We have created this range to celebrate the distinctive flavours of the specific regions of the Levant. We have worked closely with authoritative voices who have an intimate knowledge of the food and culture of the Levant region. This process was hugely important to us to create a credible range that respects and reflects the traditions, ingredients and techniques unique to each region.'