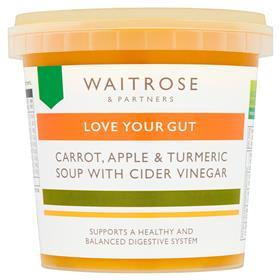 Waitrose has launched a new veg-based soup for shoppers concerned about their gut health.
A quarter of the UK (24 per cent) want to improve their gut health according to Waitrose, which has developed a "Love you Gut" range to support their customers.
The Carrot, Apple and Turmeric Soup with Cider Vinegar, is a blend of carrot apple, coconut milk and cider vinegar with a sprinkle of turmeric, with the Multigrain Soup made from chickpeas, millet, pearly barley and lentils in a tomato sauce.
According to Waitrose, "the microbiome is having its moment" with more people concerned about their gut health. Retailers are increasingly offering probiotic products to help shoppers nourish their gut.
Fruit also features in Waitrose's two new kefir drinks, a source of calcium and protein, with the flavours Mango & Passionfruit, and Strawberry with a hint of Elderflower.