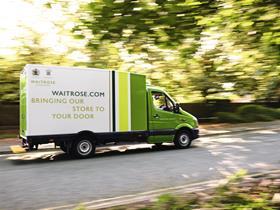 Waitrose has opened a six-acre Customer Fulfilment Centre in Enfield, north London, to double its online grocery orders in the capital by September.
The site is creating 370 new jobs, building to 850 when at full capacity, by which time it will be adding 13,000 weekly delivery slots for London customers.
The centre is part of a £100 million investment in its online business, in preparation for Waitrose.com becoming the only place its customers can buy Waitrose food online from September of this year.
Since announcing a national expansion campaign in February, Waitrose.com has further accelerated its plans to try to work towards meeting the extreme demand for online shopping from the coronavirus pandemic, the supermarket reports. The service has increased by more than 50 per cent to over 120,000 customer orders per week, and the number of people-hours picking and delivering Waitrose.com orders has also increased in recent weeks, by more than 1,300 full-time equivalent roles.
The Enfield centre will work alongside an existing centre in Coulsdon, which delivers Waitrose.com customer grocery orders across the south London area, and a network of 14 delivery shops in the capital, which together deliver to all London postcodes. Forty shops in London have also become grocery collection shops in recent weeksfor customers to click and collect orders.
Waitrose.com director Ben Stimson said: "Before coronavirus, Waitrose.com was already going through a period of significant expansion, with investment across our infrastructure and website. Enfield was planned as a big part of our expansion plans. But in fact it is now also helping us respond as best we can to the huge demand for online slots, especially from our most vulnerable customers.'
Work on the new site began last October, with a focus on incorporating planet-friendly measures wherever possible - 95 per cent of waste removed was recycled, reclaimed fixtures and fittings were installed, and a rain-harvesting system was created so the 100 delivery vans can be cleaned using rainwater.
In addition to its work to expand Waitrose.com, the retailer has also more than trebled the size of its Rapid service to 7,000 orders per week, with at least 40 per cent of slots reserved for vulnerable customers. The service offers up to 25 products for delivery within two hours.