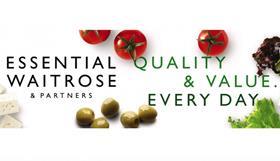 Waitrose has revamped its Essential value-tier range with sustainable packaging and the introduction of hundreds of new lines.
The supermarket launched the range in 2009 to ensure it had a tier that could compete on price with other grocers, offering high-quality own-label items at a lower shelf price.
The redesign is described as having 'a modern feel which reflects the quality and value of the products in the range.'
All products in the range have been reviewed with a view tomeeting the retailer's strategy of making all own-brand packaging widely recyclable, reusable or home compostable by 2023. The chain has committed to reduce Essential Waitrose packaging by 15 per cent, with a total saving of nearly 2,000 tonnes.
Changes include moving olives from glass jars to steel cans, removing zip seals from dried fruit bags and moving all of the Essential frozen fruit range toimproved and fully recyclable packaging.
Over 200 new SKUs have also been introduced from frozen ingredients and yoghurts to skincare.
Waitrose packaging manager Karen Graley said: "We are committed to reducing the amount of packaging we use, for all our products. For Essential Waitrose, we set ourselves the target of reducing packaging, including single use plastic by 15 per cent, which we are on track to do by September 2020. We are really proud of this as it helps us move even closer to eliminate unnecessary plastic and make all own-brand packaging widely recycled, reusable or or home-compostable by 2023."
Waitrose Essential will also make it easier for consumers to eat a healthy diet, with the majority of the range including products that support a healthy, balanced diet. At least a third of the products will be signposted with the 'Good Health' logo, which guarantees a clear nutritional benefit providing vitamins, minerals and healthier fats that are important as part of a balanced diet.
Brand manager for Waitrose, Beth Elliot, added: "Our Essential Waitrose range has been created by experts to exhibit the standout quality and value that Essential Waitrose products have to offer. Our aim is to offer the highest welfare, quality and value products which we know our customers expect. Supporting our farmers and suppliers remains a key priority and with the new design we hope our customers will be even more drawn to the range and the new products within it."