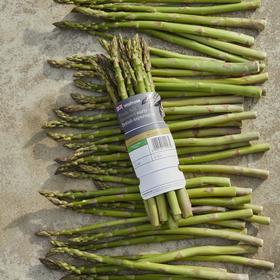 Waitrose has stocked its earliest ever British asparagus thanks to advanced growing techniques and a mild winter.
Arriving eight weeks ahead of the usual season, the traditional British crop shrugged off Storm Ciara and Storm Dennis, to reach British shelves before March.
Produced specially for Waitrose in the New Forest, Hampshire, the very early Gijnlim variety was grown in French tunnels, with fleece tunnels over each asparagus bed to ensure the warmth is kept in.
The substrate is also covered on the sides with black ground cover and a very thin black membrane which protects the spears from the cold, while capturing and retaining the heat from the winter sun.
The stored heat then triggers the asparagus to grow sooner than usual.
Lucy Broughton, vegetable buyer at Waitrose & Partners said: "With the help of the mild winter and new growing techniques we have seen our British asparagus spears shoot up ready to be enjoyed earlier than ever before.
"For us, the first British asparagus marks the start of spring and we are excited to be able to offer them to our customers first."
For the first time, the early asparagus crop will be held together using a simple card wrap, rather than plastic trays in a return to more traditional packaging.
According to Waitrose, the switch from plastic, alongside a reduction in plastic packaging across all lines of asparagus, will save eight tonnes of plastic this year.
This supports the efforts by Waitrose to reduce unnecessary plastic packaging where it can and help meet its target for all own brand packaging to be widely recycled, reusable or home compostable by 2023.