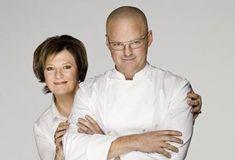 Waitrose is joining The X Factor and Downton Abbey in pioneering a new technology that lets viewers interact with their TV using a mobile phone.
This festive season, Heston Blumenthal and Delia Smith are starring in the supermarket's School of Christmas Magic advertising campaign.
It sees the chefs showing off their branded Christmas products in a setting reminiscent of Harry Potter's Hogwarts School.
Moments after kitchen magician Blumenthal shakes some of his pine tree-scented sprinkles, the advert reaches its last scene and viewers are urged to "pause and blipp".
This is a call for those with an application called Blippar installed on their smartphone to point their camera at the screen to access exclusive content, including a cake-decorating masterclass and an interview with Blumenthal.