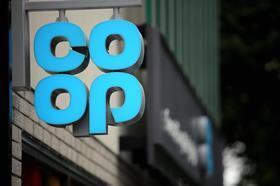 Fresh, healthy and vegan food is at the heart of the Co-op's newest store in Wales.
The 2,500 sq ft store in Carmarthen, which opens on Friday 6 December following a £550,000 investment, runs on 100 per cent renewable electricity.
The retailer said the store has a focus on fresh, healthy products, food-to-go, vegan and free-from foods, alongside other essentials.
Store manager Alun Roberts said: "We are delighted to have the opportunity to carry out such significant investment in the area – It really is exciting to be opening Co-op's newest Welsh store and we are looking forward to serving the community. Connecting communities and bringing people together is at the core of the Co-op and our aim is to operate at the heart of local life, a community hub. The investment is a great way to mark the Co-op's 175th anniversary year!"
Chris Ellis, Co-op area manager, added: "Co-op is committed to making a difference and creating value in its communities – our focus is all about delivering what our members and customers want, need and care about, conveniently. We also want the community to know that they can become a co-owner and member of their Co-op, and every time a Co-op product or service is bought by our members, local community groups receive funding."