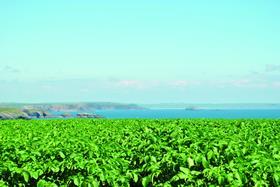 At a time of paralysing uncertainty for the UK produce industry – Brexit, lockdown, future economic insecurity – there's an exhilarating air of optimism whistling through the fruit and vegetable sector in rural Wales.
'Adfyd a ddwg wybodaeth, a gwybodaeth ddoethineb', the old Welsh proverb goes ('adversity brings knowledge, and knowledge wisdom'), and in 2020, Coronavirus brought new growth prospects to Wales's hitherto fragmented and modest fresh produce industry.
In an April survey of 150 out of the 204 fruit and vegetable growers (of which 25 are large-scale) farming the length and breadth of Wales, 58 per cent said they experienced "sudden and dramatic" increases in demand for their produce when the coronacrisis hit.
Uptake of local veg-box schemes and local produce rose at "an unprecedented rate", the study led by Cardiff University found. Growers sprang into action, quickly adapting to meet this demand by offering deliveries, moving online, setting up call-and-collect services – and even offering pick-your-own drive-throughs.
This surge in consumer interest continued well beyond the initial phase of consumer panic-buying, prompting 73 per cent of respondents to consider increasing future production and sales expansion.
The survey concluded that the crisis had "demonstrated the Welsh horticulture sector's value as a supplier of quality fresh produce to Welsh consumers", and that with appropriate support, "this could become continued growth".
This assessment was echoed by Lesley Griffiths, Welsh minister for environment, energy and rural affairs, who expressed her government's continued commitment to Welsh farming when addressing the virtual NFU Cymru conference in November.
"During coronavirus, the agriculture sector has made a huge contribution to our food supply. Clearly Wales can't be self-sufficient, we recognise that. But what Covid has done is give us an opportunity to shorten the supply chain, and the public has certainly embraced provenance and local produce in a way they haven't done before," she said.
"Looking for opportunities from Covid, we must continue to make sure the [Welsh] public continues to understand the benefits of local production. I am committed to a strong food and farming sector with a global reputation for excellence an environmentally and socially responsible supply chain."
The scope for growth within Wales's small fruit and veg sector is vast, according to Tyfu Cymru, a Welsh-government and EU funded group led by Lantra Wales to support Welsh horticulture businesses. Wales's produce potential is so great that Tyfu has drawn up an action plan for the industry, and is delivering training and business support to help growers increase their production, capacity and market reach.
Currently, says Tyfu, Wales's 204 produce fruit and veg growers produce 19,551 tonnes per annum (not including potatoes) on 0.1 per cent of the Welsh land. According to its calculations, growers would need 29 per cent more land, or 26,991ha, to grow enough produce to provide the Welsh population with their five-a-day (566,803 tonnes), which represents just 2 per cent of total land.
To achieve this 566,803-tonne quota, the number of small-scale growers would need to rise from 120 to 3,480, while large-scale growers would have to swell their ranks from 25 to 75, Tyfu's data says.
These are ambitious figures, Tyfu concedes, but, as the April survey revealed, there is now an eagerness to expand among Wales's dedicated growers, coupled with strong demand from the local market.
"Planning and investment in the sector could see numbers of producers and fantastic Welsh production vastly expanded to the benefit of local businesses and the health of the nation as a whole," Tyfu's study of the sector concludes.
So, where should producers start? Pre-Covid, the majority of Welsh growers (57 per cent) sold direct to consumers via veg-box schemes, pick-your-own or farm shops, according to Tyfu data, while over a third (38 per cent) delivered their own produce to retail outlets. Meanwhile, 25 per cent supplied the wholesale sector, 18 per cent sold to caterers, and 15 per cent to grower groups.
It's within this first area of direct-selling that initial expansion could be made, Sarah Gould, Tyfu Cymru horticulture manager, tells FPJ.
"Veg-box schemes are very popular, and these could be replicated," she says. "There's also been a massive increase in the last few years in terms of pick-your-owns pumpkins and soft fruit. And obviously because of the higher price point in those businesses and the link to tourism, that's an area people could go down.
"Another example is upscaling to farm shops. One of the larger veg growers in North Wales, Husons, opened a farm shop this year just before Covid and was so inundated with customers they couldn't keep up with demand."
She also cites examples of increasing field vegetable production along the North Wales coast to supply big-city wholesalers across the border in north-west England; and veg growers in the Gower (South Wales) clubbing together to share machinery.
In Pembrokeshire, where commercial Welsh vegetable production (potatoes, leeks, brassicas) is concentrated in the hands of 25 growers who supply the domestic retail market via Puffin Produce, expansion plans are also in the pipeline, says Gould.
But it remains difficult for most growers – even the large ones – to make the leap and supply supermarkets, Gould says, because of the huge investment required (land, labour and machinery) and the low returns.
"We want our growers to make a decent living out of what they do," she says. "Because there is no excess supply at the moment, they are not looking for procurement contracts because they are being pushed down on price all the time. The growers will say it's down to price and they can get better prices elsewhere."
Hannah Norman, Tyfu's horticulture coordinator, elaborates: "Plenty of people want to expand their businesses, but it costs money to upscale," she says. "Take soft fruit: it is so labour heavy and time consuming. Berries are difficult to pick, so if you want to supply the supermarkets you need an awful lot of labour, which increases cost dramatically, and [sorting] machinery, which also costs a lot of money.
"If you do pick-your-own, however, you don't need the labour, or the machines, and you can make quite a lot of money too. It's a win-win. By tapping into the tourist trade, it helps with this too. Especially with Brexit looming and the uncertainty over future seasonal labour, a lot of medium-to-large-scale growers would prefer to go down this route."
We have to be realistic about the sector's expansion, Gould agrees. "What would really support the industry is a capital grant scheme [to buy land, buildings, machinery], and we are in regular discussions with the Welsh government [about this].
Post-Brexit, funding for Welsh agriculture will now come solely from the Welsh government rather than the EU. "Gone are the days of seven-year budget cycles," quipped Dr Tim Render, Welsh government director for environment and rural affairs, at the NFU Cymru 2020 conference. Of the £300m budget he mentioned is destined for Welsh agriculture in 2021, it was unclear at the time of press how much is earmarked for horticulture, nor how it would be spent.
Yet the Welsh government has identified horticulture as a key growth sector, and one that is essential to delivering its wider Rural Development Plan for Wales objectives, says Tyfu Cymru.
"As we've seen with Covid, there is massive, massive demand for local, for Welsh, for fruit and veg; and we just hope that this demand continues," says Gould. "And we've seen an industry that has adapted fantastically well, and that's what's exciting."
"What is Wales's USP?" Render asked NFU conference delegates back in November. "It's not about commodity and price; it's about quality, sustainability of production, that story of provenance, and its link to the landscape and culture of Wales.
"Agriculture is absolutely vital for Wales," he continued. "It makes a vital economic contribution. It underpins the food sector. It makes a contribution to our landscape, and a major cultural contribution. Agriculture is the foundation of Welsh communities. It is vital that agriculture can thrive in Wales."