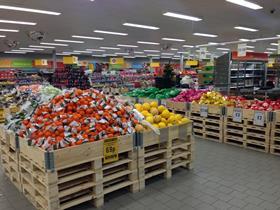 Speaking in 2014 on Netto's return to the UK market after a four-year absence, Per Bank, CEO of Netto's co-owner, Dansk Supermarked, said: "I hope we can set new standards for discounters in the UK. It's a big risk but I believe we're able to deliver that. [But] if we can't meet the needs of customers, then we'll come to a point where we say it doesn't work and we will have invested a limited amount of money."
Over 18 months on, and the other half of the JV behind Netto, Sainsbury's, has been more guarded about what the future holds for the chain in the UK. A statement accompanying Sainsbury's annual accounts simply said: "We will now review the performance of [Netto] in light of the overall market", with a promise to report back on its decision later this year.
Does this non-committal response hint at 'abandon ship', or can we expect to see the Netto brand expand across the UK? And, what does the decision mean for fresh produce?
Simon Johnstone, an analyst at Kantar Retail, reckons extending the trial to include another 10 or so stores on top of the 15 M62 corridor trial stores currently in operation, indicates that the taster XV have probably at least met expectations in terms of sales.
Having retained the yellow and black Scotty dog logo used before Netto exited the UK in 2010, Netto UK's co-owners were obviously hoping that brand recognition would provide a foundation of sales to build upon. When asked how Netto differentiates itself from its UK competitors, Bank pointed to the "Scandinavian twist": a reference to the way Brits have taken to Swedish chains such as Ikea and Clas Ohlson.
But Johnstone pinpoints another area where it has triumphed: "Netto has attempted to make the discountershopping experience easier for customers on parking, shopping and paying," he says. "Longer checkouts and express checkouts have gone a long way in alleviating the last discounter hurdle, queues."
Continuing to differentiate itself from Aldi and Lidl, which have bothmade bold and innovative moves in a challenging and competitive market, will be key to Netto UK's future. But, as Johnstone warns: "Success will require it to innovate quicker than its rivals, or at least at the same pace. The issue for Netto is the dynamics of discounters when competing head to head means that often they mimic one another to try to differentiate and innovate."
In the near future, Netto has scope for greater expansion, with its DC reportedly able to support 150 stores. Like its rivals, Netto fights with its fresh offer as a key weapon, so if this capability is utilised, opportunities for suppliers – especially those connected to the Sainsbury's network – would abound.
Nevertheless, Johnstone thinks question marks hang over Netto's long-term future, or at least Sainsbury's involvement in it, due to the latter's recent Argos buyout: "Sainsbury's is having to fight multiple battles, not least funding a price war to defend and grow its market share, as well as integrating the Argos business, as it tries to compete better in an increasingly omni-channel environment," he says. "As a result, expanding Netto may be a case of having too many balls in the air."
Retail analyst Graham Soult, of Canny Insights, thinks Sainsbury's having the Argos stores in its arsenal may actually lead to an expansion of Netto, though. He tells FPJ: "The Argos deal can push through more Netto store openings, as there are 50-100 Argos retail park stores surplus to requirements, and which may therefore be a way to raise the number of units Netto has, pending planning approval."
While the amount Sainsbury's has invested in the chain is a drop in the ocean, the new openings indicate that it now plans to dip at least a leg into the water with Netto UK, leading to at least a partial expansion across the UK.
That, as touched upon, is of interest to this industry – especially as Netto's website boasts that it sources as much UK produce as it can. Not only would it bring more supply opportunities, but another big discounter may lead to prices remaining low across the board at grocery retail level, if the vast number of major retailers continue to battle on that front.
On the other hand, it could allow Netto's bigger sibling and its big-four rivals to attempt to differentiate by moving back to focusing their offers on something other than price. Whatever is decided, there will be a number of parties intrigued by the next move made on Netto UK's behalf.