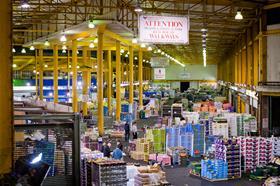 The Federation of Wholesale Distributors (FWD) said it was 'reassuring' that its message is being heard, after the Prime Minister told Parliament on Monday (22 February) that he was "acutely conscious" of businesses, such as foodservice wholesalers, who had "fallen through the cracks" of existing financial support measures.
Boris Johnson added that extra discretionary funding would be made available to support businesses, and suggested that more would be announced by the Chancellor next week.
The PM's remarks follow the launch of a FWD-backed petition last week demanding bespoke financial support for food and drink wholesalers. So far it has received almost 6,500 signatures.
In a statement, FWD chief executive James Bielby said: "It's reassuring that the Prime Minister is 'acutely conscious' of the lack of financial assistance his government has given foodservice wholesalers throughout the pandemic.
"This illustrates that our case has been made at the very highest level. What we need now is for the PM and the Chancellor to turn those promising words into long-overdue support in next week's budget, with the announcement of grants and business rates relief for wholesalers."
Bielby went on to warn that wholesalers will be wary over the clarity and timing of the Government's roadmap to restart.
"Wholesalers have asked the Prime Minister for clarity and confidence, and he's partly delivered the first of those," Bielby said.
"However, our members' experience of previous lockdowns and u-turns means they'll be cautious about investing ahead of each scheduled opening date. Those who distribute to the hospitality sector can't afford to foot the bill yet again for government dithering.
"We saw several times last year how short-notice changes disproportionally impact wholesalers, who have to stock up in advance of demand. What we need from government is at least two week's notice if it has to deviate from the roadmap at any stage, or if that's not possible, a consideration for the cost of the excess stock that will go to waste as a result of the late changes.
"The roadmap is a route out but it's not the journey itself. With hospitality not fully open until June at the earliest, the drain on foodservice wholesalers' cash reserves will continue, and they are already nearly exhausted. They need cash to stock up, and they need it soon, starting with an announcement of support in next week's Budget.
"The planned opening of pubs and restaurants for outside service on 12 April means the hospitality sector will be looking to stock up just as border controls on products coming from the EU are introduced on 1 April. Extra demand plus extra bureaucracy may mean delays, so there could be implications for availability of fresh product at this point," he added.