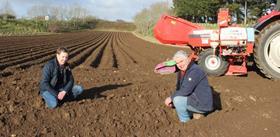 Northern Irish potato packer and processor Wilson's Country has began planting its first earlies of the season throughout in its traditional heartland area of Comber and North Down.
Varieties planted over the past week include Home Guard, Accord and Dunluce, Wilson's Country agronomist Stuart Meredith revealed, adding that - weather depending - the first of this year's Comber Earlies will be ready for harvest around the beginning of June.
Meredith made these comments while on a visit to the Newtownards farm of William Gilmore, who explained that his land haddried up 'remarkably well over recent days'.
"Planting seed potatoes can be a bit of a lottery. It's all about the weather,' Gilmore said. 'If we get an early spring, then it is possible to get seed into the ground before the end of February.
"Some years, though, have seen us planting first earlies in mid-April. Assuming a normal growing season, we should be digging the first of this year's new season crops by the end of May or early June."
Potato consumption has boomed in Northern Ireland over the last year on the back of the surge in home cooking caused by lockdown over the last number of months.
Wilson's Country said it expects this 'very welcome trend' to gain even greater momentum, once new season crops for 2021 are available.
Meredith said:"The tremendous resurgence in consumer demand for locally grown potatoes has been a very welcome development. Hopefully, this momentum will be maintained throughout 2021 and beyond. Potatoes are a very expensive crop to grow. Northern Ireland is home to many of the best potato growers in the world.
"The quality of their produce, which is available in local shops throughout the year, is testimony to their skill, commitment and expertise."
Comber earlies have always been regarded as a delicacy by local consumers. This has been officially reflected in the attainment of Protected Geographical Indication (PGI) status for these unique potatoes under an EU scheme which promotes and protects names of quality agricultural products and foodstuffs.
Wilson's Country managing director Lewis Cunningham commented:"Comber Earlies will retain their PGI status. This will continue to set them apart as a unique product with distinct eating characteristics.
He added: "Early potatoes have a unique flavour. They can be quickly boiled in their skins as it's loose from the early harvest and enjoyed as part of a main course or included in salads. Consumers want to get back to basics and potatoes allow them to do this in very satisfying manner.'