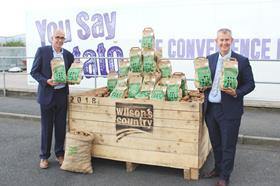 Northern Ireland Agriculture Minister Edwin Poots praised the country's largest potato supplier for its efforts in supplying spuds throughout the coronavirus pandemic.
Poots visited Wilson's Country operations in Craigavon last week, on the back of a £25million government cash injection announced in May to help Northern Ireland's agri-food sector during the Covid-19 crisis.
Poots was welcomed to Wilson's Country site by company chairman Angus Wilson. Wilson said: "Our retail division has been very steady throughout the Covid-19 lockdown.
"However, our food service business has been impacted by the significant downturn that has affected the catering sector over recent weeks."
Poots said: "I am very pleased to visit Wilson's Country and see all of the excellent work going on. There is no doubt that the impact of Covid-19 has been felt across our entire agri-food sector. The potato industry has also suffered as result of changes in trading conditions and issues in the food services sector.
"Last month, I welcomed a £25million cash injection for the agri-food industry to try and help those sectors that have been hit the hardest, at this stage of the pandemic. I intend to ensure that funding is driven towards those most in need will make my decision on how best to allocate it as soon as possible.'
Wilson took the time to also warn of the dangers of freight checks between Northern Ireland and Great Britain as the small matter of Brexit returns to the spotlight with the transition period set to end on 31 December this year.
"As we look to a life beyond Brexit, it's important that free trade on the island of Ireland is guaranteed and that checks on trade between Great Britain and Northern Ireland are absolutely minimised.
"The introduction of tariffs or new phyto-sanitary regulations could prevent or damage future trade opportunities between Great Britain and Northern Ireland."
He added: "It is also crucially important that companies within Northern Ireland's food sector have continuing access to the level of investment support from London that was the case when they were under the aegis of the Common Agricultural Policy.
"Only in this way will we be able to deliver a sustainable future that will benefit processers and primary producers in equal measure."
Poots' visit also market the start of the Comber Earlies potato season, which got off to a rocky start following one of the UK's driest springs.
Wilson Country's managing director Lewis Cunningham said: "Comber Earlies are in the shops now. The drought conditions that prevailed throughout April and May proved challenging for both crops and growers. However, the recent rains should help to boost yields."