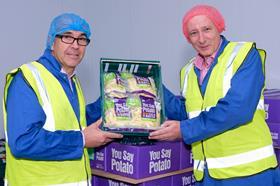 Northern Ireland potato packer and processor Wilson's Country says its 2020 sales to retail have grown at double the local market rate, thanks to its convenience range.
Kantar data showed that the Northern Irish potato market grew at just over 8 per cent in volume, while sales of the Wilson's Country brand rose almost 18 per cent for the same period, the packer said.
The County Armagh-based company is also ranked top fresh produce brand in Northern Ireland, Wilson's Country said in a press release.
Commenting on the findings, Wilson's managing director Lewis Cunningham said: "The Kantar figures reflect the culmination of many years' work and investment. We have always been committed to delivering consumers total satisfaction, where product quality, eating satisfaction and convenience are concerned."
Cunningham continued: "The reality is that the potato is no longer viewed as the humble spud. Consumers realise that fresh potatoes can be at the centre of an exciting culinary experience and can be used in so many different ways – boil, mash, slice, roast, sauté, dice and, of course, chips.
"Variety plays a part in this regard. But so does convenience. In our own case we have developed the 'You Say Potato' range, that includes fresh cut chips, skinny chips and baby potatoes with garlic and herb butter. This key step forward for the business has helped to boost our sales dramatically while allowing Wilson's Country to remain true to the company's founding principles."
Cunningham confirmed that the company's potato sales have increased significantly across Northern Ireland over the past 12 months.
"All of the key indicators are up: market value, number of shoppers buying potatoes and the volume of potatoes purchased per visit," he said. "All of these parameters have been reflected across the industry and particularly in our own case."
Wilson's Country attributed most of these developments to the Covid-19 lockdowns and the fact that people are now cooking much more than ever before in their own homes.
But it's not all good news for the local potato sector, according to Cunningham.
"It's now exactly a year since Covid reached Northern Ireland and sales especially to the food service sector have simply been decimated for the last 12 months," he said. "In our own case, the processing sales to the food service and contract catering sectors have fallen by over 60 per cent . A return to what was the norm for this sector pre the Covid pandemic, unfortunately still feels some way off.
"The perfect scenario moving forward would be for local consumers to retain the interest in potatoes that has been rekindled over recent months and to have this reflected in their eating choices, both at home and while out," he added.