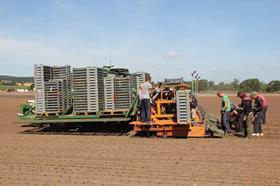 Brexit uncertainty is continuing to hit seasonal worker numbers despite the government's sudden reversal on abolishing freedom of movement after 31 October, say labour recruiters.
The Home Office's second U-turn on immigration this week saw EU citizens arriving after 31 October given the right to apply for a three-year work permit, the same plan in place under previous home secretary Sajid Javid.
Just weeks earlier, current Home Office secretary Priti Patel suggested freedom of movement will immediately end after Brexit, with Europeans having no automatic right to work in the United Kingdom.
NFU Horticulture and Potatoes Board chair Ali Capper said the removal of the Leave to Remain plan, which would have allowed EU arrivals to the UK the right to apply for 36-month working visa, had left a "policy black hole" for seasonal worker recruitment.
Capper said she feared a general election would halt any further progress on resolving the issue, something which Patel appears to have anticipated by announcing a return to the old post-Brexit immigration stance.
Despite the NFU welcoming the new plan, labour recruiters such as Jan-Willem Naerebout, say this back and forth over immigration rights is severely hitting the influx of seasonal workers.
Naerebout who runs his own recruitment business, Agri-HR, says seasonal workers from Europe aren't taking any risks by hanging around for the next Brexit deadline.
"I'm hearing from some businesses that workers are saying they want to be back home for 31 October; they feel insecure which is really a problem for some sectors."
He says he is struggling to find enough workers in the current climate. "It's the toughest I have seen for 20 years, it's really difficult to get workers in, the pound has nosedived again and the workers are feeling the pain of that Brexit uncertainty."
As a result Naerebout is expanding his business into European countries to limit his own risk. He adds that even a no-deal Brexit would at least provide certainty for sectors dependent on EU labour.
Naerebout says he has heard "favourable noises" however from government that it is likely to ramp up numbers on the seasonal pilot scheme for recruiting non-EU seasonal workers, something which the NFU is lobbying for.