Morphett Vale store wins 'A better choice!' Retailer of the Year, People's Choice Award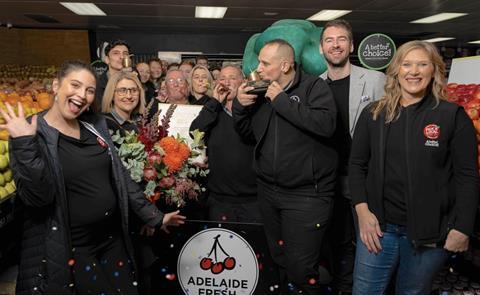 Adelaide Fresh Fruiterers can lay claim to being Australia's favourite local fruit and vegetable retailer.
The Morphett Vale store was named National Retailer of the Year in the 2022 'A better choice!' Retailer of the Year, People's Choice Award.
Presented by Fresh Markets Australia (FMA) and the Central Markets Association of Australia (CMAA), the award recognises Australia's leading independent fruit and vegetable retailers, as voted by shoppers. This year, over 16,000 shoppers nominated 428 individual stores.
The award winners were announced during an online event hosted by Australian Masterchef winner Callum Hann.
"It's great to see the industry come together to celebrate the hard work our retailers have done to continue to give people excellent quality fresh produce every day," said Hann, an ambassador for 'A better choice!'.
"The industry has been going through some pretty tough times over the last few years, and it's great to give recognition to those that go above and beyond and stand out within the industry. I believe it's important to support independent retailers because it's good to know you're supporting the little guys, and you're always guaranteed exceptional service and great quality produce."
In the process of being named national winner, Adelaide Fresh Fruiterers also became South Australia's Retailer of the Year.
Dino Labbozzetta of Adelaide Fresh Fruiterers said his team was proud to be recognised as Australia's favourite fruit and vegetable shop.
"Firstly, thanks to the staff, without them we wouldn't have made this happen and to the customers, it comes from the trust they put in us that we'll have great quality and great service, so I want to thank them very much," Labbozzetta explained. "Thanks to everyone who participated, thanks to 'A better choice!', we wouldn't be doing this without everyone."
Erbacher's Fruit and Vegetables on the Sunshine Coast was second place nationally and the Queensland winner.
Third Place nationally and the Victorian winner was Arnolds Fruit and Veg in Wodonga.
The state winner for New South Wales was awarded to Trims Fresh, while Spudshed was the state winner for Western Australia.
"This year, we are delighted to announce the winners from each state that participate in the national initiative, as well as the top three nationally, who demonstrated excellence within their industry and received the most nominations overall from their customers," said James Patrick, national programme manager of 'A better choice!'.
"This award recognises the efforts and significance of independent retailers nationwide, many of which are owned and run by families who are a large part of the heart and soul of this industry and have been for generations. This award recognises the hard work and passion our retailers have for our industry and demonstrates support for the 'A better choice!' initiative as it continues to grow for years to come."
'A better choice!' is a national programme that encourages consumers to shop for fresh produce at their local independent fruit and vegetable retailers. The joint FMA and CMAA initiative supports more than 700 retailers across Australia.