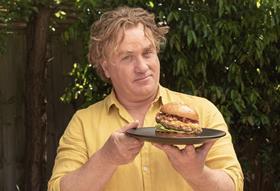 Television chef Adrian Richardson will appear in a new campaign encouraging Australians to eat less meat and more mushrooms.
Funded by the Australian Mushroom Growers Association (AMGA), the 'Mushrooms + Mince = The Blend' campaign will highlight the benefits of a balanced diet.
"The number of Australian meat-reducers or 'flexitarians' has grown rapidly in recent years, with one in three (32 per cent) Australians now actively trying to reduce their meat consumption – with the main motivator being health," according to a media release from AMGA, which cited figures from a Food Frontier report. "Surprisingly, seniors are a leading the way, with 43 per cent of meat-reducers being baby boomers."
The new campaign encourages Australian consumers to prepare more plant-forward meals at home, using a combination of mushrooms and minced meat. The phrase 'Blenditarian' has been coined to refer to those who engage in the process.
To share its message, AMGA has launched a new Blenditarian website, which contains recipe inspiration, cooking videos and Richardson's Blended Recipe eBook.
Richardson – who rose to fame as the star of TV shows Good Chef Bad Chef, Secret Meat Business and Boys Weekend – is pleased to be part of the campaign.
"It's not about telling people they can't eat meat," he explained. "Meat is delicious. But if you are trying to feed the kids healthier meals or if you want to reduce the amount of meat you eat, it can be confusing on what to cook.
"The blend is simple. All you do is finely dice white mushrooms and swap out some mince for mushrooms in your spaghetti, burgers and tacos. I've been blending mushrooms with mince for years, not just because it's healthier, because it makes burgers and meatballs taste meatier and juicier."