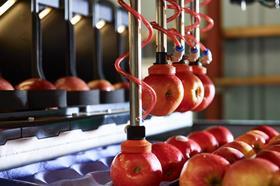 Therobotic technology behind the Aporo Produce Packeris making one of the most labour-intensive tasks of the packhouse more efficient and attractive to growers and packers.
The Aporo Produce Packerautomates the tray packing process, with an output of up to 120 pieces of fruit per minute when operating under optimal conditions. The per minute output reduces when packing larger pieces of fruit but the carton per minute rate remains constant.
J-Tech Systems is the Australian agent for the Aporo Produce Packer.
"It's a great system that has been designed with the end user in mind and is a practical solution for shortages in the labour market," said J-Tech Systems' general manager, Michael Williams.
"It's really easy to use and set up and can be easily retrofitted into existing packhouse infrastructures. Everything has been carefully thought through, it only needs a small amount of operator training to have it running efficiently and it can be monitored remotely."
J-Tech has also been appointed the Australian agent for Israel-based packaging specialist StePac. It will carry StePac's full range of modified atmosphere, modified humidity and condensation control packaging solutions.