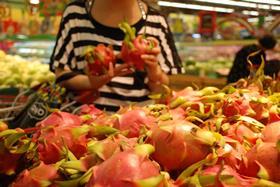 Industry importer and exporter body Australian Horticultural Exporters' Association (AHEA) has announced a new project to address supply chain issues and boost Australia's bilateral trade with China and Vietnam.
Australia's Department of Agriculture and Water Resources, under the Agricultural Trade and Market Access Cooperation programme, has granted A$114,785 to AHEA for its 'bilateral trade facilitation through import value chain development and capacity building' project.
AHEA chief executive Dominic Jenkin has called for any Australian importers dealing with suppliers in China and Vietnam to sign up for the project.
"This a fabulous opportunity for fresh produce importers to build relationships, improve the fresh produce value chain and improve on the offering they are already delivering Australians in what is a growing market," Jenkin said. "We want to assist our importers identify, and take steps to rectify, deficiencies in postharvest processing, packaging, cold-chain and logistics in the fresh produce value chains to improve product out-turn in Australia.
"China and Vietnam are key trading partners with burgeoning markets that Australia can build upon with this latest project providing both the funding and professional expertise to help individual businesses grow."
The project is in partnership with irradiation service provider Steritech and supported by CSIRO.