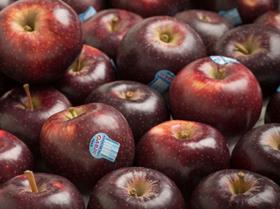 Prospects look bright for the exclusively Australian-grown Bravo apple in 2022.
WA Farm Direct and Fruit West are preparing for an increase in production volume this season, with an estimated 7,300 tonnes of the ANABP01 variety set to be available this year. The fruit will be marketed and sold under Bravo and Cripps Gem branding.
As Australian and overseas markets move towards a post Covid-19 era, the added volume will provide more customers with the opportunity to become "devoted consumers of this premium product," according to Sean Engelbrecht, national development manager for the Bravo programme.
"Even though 2021 was extremely difficult for the fresh produce industry, we were able to lay strong foundations for both the Bravo and Cripps Gem platforms that will allow further growth within our supermarket and independent retail programmes," Engelbrecht says.
The team behind the Bravo programme is harnessing the power of technology to forge closer connections with end-consumers.
Last year saw the successful implementation of Fresh Supply Co's QR Code system. When scanned, the codes allowed consumers to instantly learn more about the variety and enter a competition to win A$100,000.
The technology's reach will be extended in 2022.
"This technology will provide huge benefit to the programme for ANABP01 growers, with WA Farm Direct partnering with Source Certain for national implementation this season," Engelbrecht said.
"This system provides a trace element signature from each producer, which allows Bravo apples anywhere in the world to be traced back to their orchard, with or without a QR code."
Plans are also in place to grow the Bravo export programme in 2022, following what Engelbrecht describes as a positive 2021 season under difficult conditions.
"Over the past two years, we have provided our trade partners with a premium quality apple that is exclusively grown in Australia to consumers in Thailand, Malaysia, Singapore, Hong Kong, Indonesia and UAE," Engelbrecht said.
"The establishment of Bravo programmes into retailers such as Siam Makro in Thailand and Spinneys in the UAE gives confidence to Australian apple producers that the ANABP01 is a strong export apple variety, especially within the Asian region."