Rising production volumes help meet increased demand for West Australian-bred apple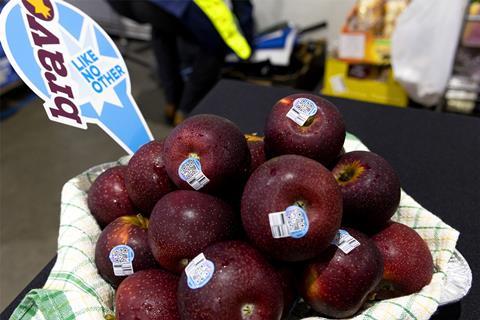 Bravo apples have begun arriving on Australian retail shelves, with more fruit set to be available this season.
WA Farm Direct, the licenced marketer of Bravo apples in Australia, forecasts supply volumes of the ANABP01 variety (branded as Bravo) to rise by 30 per cent in 2022, compared with the 2021 campaign.
Sean Engelbrecht, national development manager for Bravo, said the variety is much sought after for its distinct burgundy appearance and crisp texture.
"Bravo apples have a beautifully balanced natural sweetness, with testing ensuring the quality is always consistent for the decerning apple buyer in the family," Engelbrecht said. "The apples are quickly gaining a strong following from Australian families and foodies alike.
"Recent nationwide research of apple consumers showed that Bravo apples have the highest preference rate of any consumer that has purchased them, beating traditional favourite Pink Lady into second place. Consumers credit the juicy sweet taste and crisp firm flesh for this preference."
Terry Hill, director general of the West Australian Department of Primary Industries and Regional Development, said the Bravo was one state's apple breeding success stories.
"Western Australia is impacting the global market for apples when it comes to apple breeding and the release of premium new varieties," Hill explained.
"Manjimup is now home to the National Apple Breeding Program, where our officers are working on new varieties for our farmers to grow and prosper and so future generations can enjoy unique and tasty Western Australia-bred apples."
Hill also paid tribute to the late John Cripps, the man who bred ANABP01's parent variety.
"Bravo is another one of the outstanding achievements after years of patience, perseverance and innovation by the department and its officers, particularly John Cripps – whose passion and tenacity led the development of Bravo's parent, the Cripps Red, as well as Cripps Pink, which as Pink Lady is one of Australia and the worlds' leading premium apples."