Green Endeavour moves into new A$25m warehouse at Brisbane Markets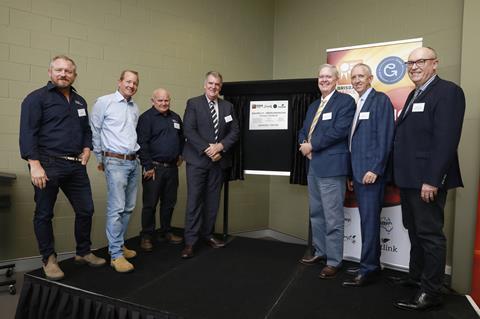 Brisbane Markets Limited (BML) has officially opened Building H1, a new A$25m warehouse and administration building.
Occupying the development pad in the South Gate West warehouse precinct, the facility features a total lettable area of 6,144m², including the main warehouse and an administration hub over two levels. It is adorned by a rooftop terrace and garden.
The official opening was held on 17 May and attended by Queensland minister for agricultural industry development and fisheries, Mark Furner, and a wide range of key players from Brisbane's wholesaling sector, who marked the occasion with a tour of the state-of-the-art facility.
BML chair Anthony Kelly said Building H1 is the result of a thorough design and development process, which commenced in early 2021.
"It is not only exciting that we are delivering our third major warehouse development in five years, but also encouraging that we continue to meet the needs of our tenants in providing the infrastructure necessary for their businesses to expand and grow," said Kelly.
Adam Dilworth, managing director of incoming tenant Green Endeavour – a joint venture between Fruitlink and Suncoast Fresh – said it is crucial to have the right space to run a business.
"We had a situation where we had two businesses, both growing beyond our existing warehouse space, and now to have this warehouse, it feels like unlimited potential. We're so pleased with the support we received from BML, not just for this build, but over a long time," said Dilworth.
"Our first build on site was back in 1998 and I remember thinking we were never going to fill that warehouse and look how far we've come."
Despite construction challenges including subcontractor and materials shortages, and the flooding of the Brisbane Markets site a year ago, Max Burns, managing director of SBP Australia, said his team enjoyed delivering the project.
"We always enjoy working with BML," said Burns. "Even with the challenges we've faced over the past year, the fulfilment for us comes from watching the Brisbane Markets grow – it's a great industry to be a part of."
Green Endeavour's director, Graeme Twine, said the new warehouse will allow both businesses under the Green Endeavour banner to offer supreme service to their customers.
"By combining the two businesses in modern facilities, we will actually be able to save money on our energy costs and reduce other costs simply by working together," said Twine. "The facilities are not only created to look after the produce, but it's also going to be an environment where people are going to want to come to work."