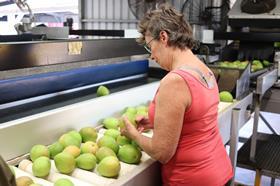 The Northern Territory department of primary industry and resources, in collaboration with the Northern Territory Farmers Association, has launched a local worker attraction campaign to encourage Territorians to be local heroes, by signing up for fruit picking jobs to help farmers get their produce to market.
The NT is Australia's largest grower of mangoes, producing around 52 per cent of the national crop with a farm gate production value of around A$112m.
Covid-19 travel restrictions have severely impacted the availability of reliable labour. The Australian Fresh Produce Alliance (AFPA) said up to 80 per cent of Australia's harvest workforce is sourced through the Working Holiday Maker programme.
The Northern Territory mango industry faces a tough challenge ahead of its season, with farmers expecting a shortfall of up to 1,000 workers.
Philippa Johnson, office manager for Berry Creek Packing, a mango packing company that works with a number of growers in the NT, said their workforce was in place for the season, however the second wave of Covid-19 in Victoria could cause issues if not contained.
The 'be the pick of the bunch campaign' is encouraging locals to be a 'Territory hero' by supporting its farmers in getting Territory produce to the market quickly.
"With many Territorians hurting from job losses or reduced hours due to Covid-19, this is a chance for meaningful work for locals, and with an iconic Territory product," said Paul Burke, chief executive of NT Farmers.
As the mango picking season slowly gets underway in August, the new campaign is highlighting the opportunity for Territorians to learn new skills, work hard, make friends, earn good money and work next to some of the NT's iconic locations.
Burke said anyone can apply to do fruit picking, adding; "all you need is a good attitude, willingness to learn and to be reliable. Fruit picking makes a huge contribution to the local economy, helps our farmers, and gives people an iconic Territory adventure."
Department chief executive Alister Trier highlighted the opportunities a job during harvest can provide down the track.
"Fruit picking is a great way of getting a foot in the door in the agricultural sector, with opportunities for ongoing work, training and further career opportunities," said Trier.
"We know a lot of locals have been affected by the Covid-19 pandemic, and this work is available now, right on our doorstep."